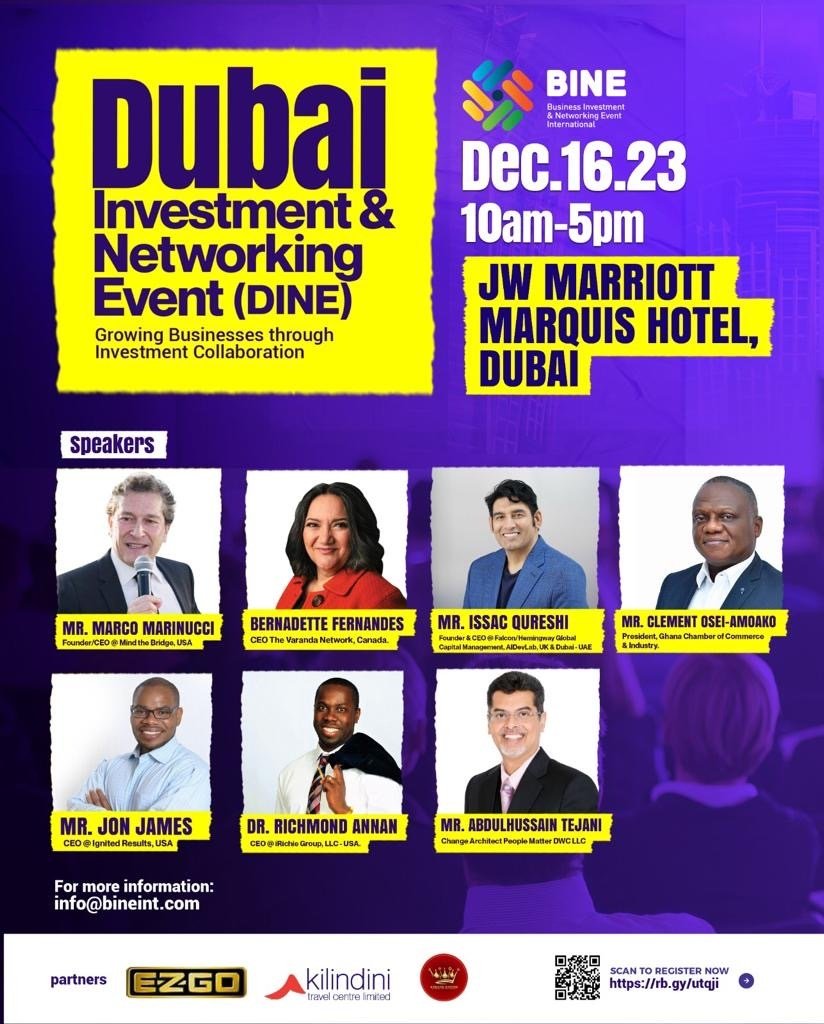 Dubai, UAE – 9/28/2023– BINE INTERNATIONAL is thrilled to announce the highly anticipated Dubai Investment and Networking Event (DINE 2023), scheduled to take place at the luxurious JW Marriott Marquis Hotel on December 16, 2023. This prestigious event is poised to facilitate investment and collaboration among companies and industries, with a special focus on bolstering small and medium enterprises (SMEs) under the theme "Growing Businesses through Investment Collaboration."
DINE 2023 is set to create a dynamic business ecosystem, benefiting both local and international entrepreneurs, while reaffirming its strong commitment to supporting SMEs and recognizing their pivotal role in driving economic growth and innovation. The event aims to provide SMEs with a platform to connect with potential investors, expand their networks, and explore new growth opportunities, ultimately catalyzing economic development, creating job opportunities, and fostering a sustainable business environment.
Highlighting various investment opportunities in sectors such as technology, energy, infrastructure, agriculture, and tourism, DINE 2023 will bring together entrepreneurs, investors, and decision-makers from both regions. The event's emphasis on networking and fostering meaningful business relationships will be a key feature, with interactive sessions designed to facilitate connections and collaborations, enabling participants to engage with industry leaders, experts, and policymakers to exchange ideas and best practices.
DINE 2023 boasts a diverse lineup of industry experts and thought leaders who will share their insights on investment strategies, market trends, and innovative business models. Guided by a shared vision for growth, these sessions will inspire attendees to think beyond boundaries and explore new avenues for business development. By promoting innovation and thought leadership, DINE 2023 aims to ignite a spirit of entrepreneurial excellence and propel business growth.
The Dubai Investment and Networking Event (DINE) 2023 stands as a testament to the unwavering commitment to fostering a thriving business ecosystem that benefits all. Through collaborative efforts, investment opportunities, and networking, DINE 2023 is dedicated to supporting SMEs and driving strategic investments. With the stage set for this groundbreaking event on December 16, 2023, entrepreneurs, investors, and industry leaders are eagerly anticipating an inspiring and transformative experience at DINE 2023.
For registration and further information, please visit https://www.bineint.com/register.