--News Direct--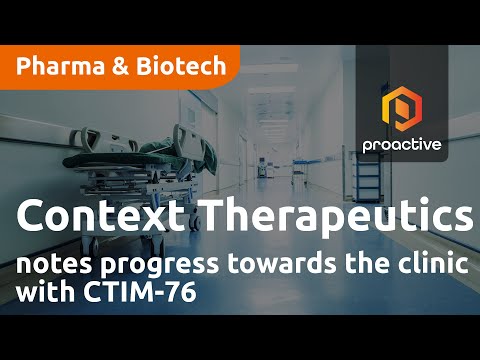 Context Therapeutics (NASDAQ:CNTX) CEO Marty Lehr takes Proactive's Stephen Gunnion through progress with the company's lead program, CTIM-76.
Lehr explained that CTIM-76 is a T cell engaging bispecific antibody targeting Claudin 6 (CLDN6) on tumor cells and CD3 on immune cells.
The program is on track for an Investigational New Drug Application (IND) filing in the first quarter of 2024, Lehr added.
The company has provided consistent cash guidance to late 2024, which it believes provides adequate capitalization through its next major inflection point. An upcoming preclinical update is anticipated in the second half of 2023 with further information on CTIM-76, relating to its preclinical development, specifically its in vivo efficacy, safety, and tolerability.
Lehr also shared Context Therapeutics' focus on manufacturing and safety studies as they move towards the IND filing.
He noted that other competitors, including private company TORL Biotherapeutics and BioNTech, which is publicly traded, are planning updates on Claudin 6 before the end of 2023.
Contact Details
Proactive Investors
+1 604-688-8158
na-editorial@proactiveinvestors.com
View source version on newsdirect.com: https://newsdirect.com/news/context-therapeutics-ceo-marty-lehr-notes-progress-towards-the-clinic-with-ctim-76-in-2q-update-747739486