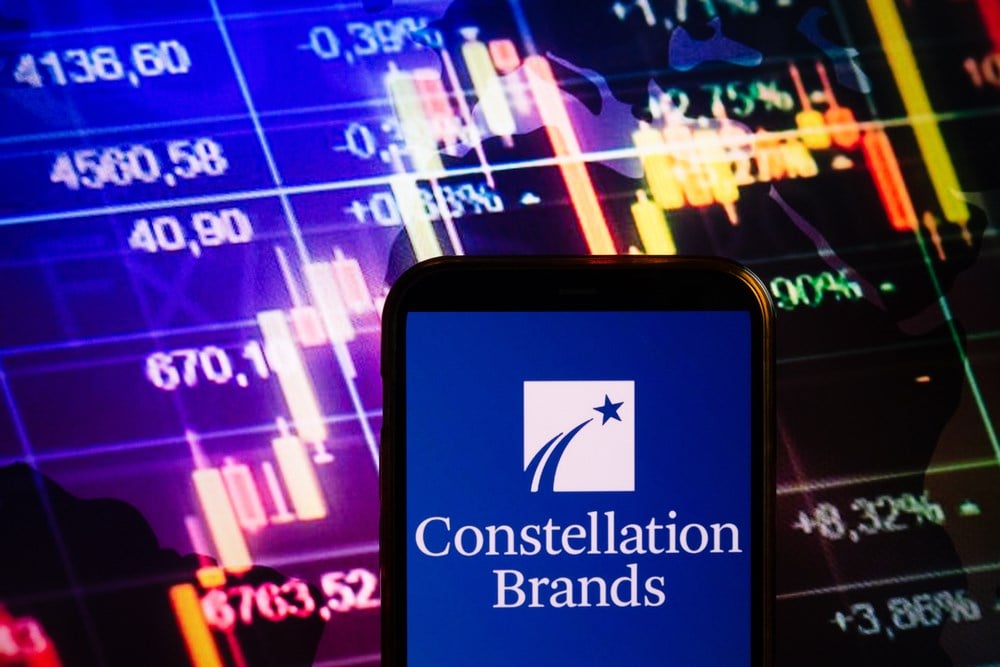 Shares of Constellation Brands Inc. (NYSE: STZ) are gradually edging the right side of a base that began in December after the Constellation Brands stock price pulled back from a high of $261.32. 
The stock is up 6.27% in the past three months and 9.01% in the past six months. Since the company reported fourth-quarter results on April 6, Constellation Brands stock has ramped up 9.2%.
Shares recently got a boost from a Goldman Sachs analyst who reiterated her buy rating on the stock, saying, "Investor concerns have been lowered considerably in the past few weeks as the narrative has shifted from concerns about the slowdown of the total beer category to the belief that Modelo's growth has peaked and the brand is losing market share. We believe these concerns are overblown."
MarketBeat's Constellation Brands analyst ratings reveal a "moderate buy" rating on the stock, with eight analysts boosting their price targets since the fourth-quarter report. In addition, the Royal Bank of Canada reiterated its "outperform" rating. Just one analyst at Barclays lowered the price target but maintained an "overweight" rating on the stock.
Well-Known Brand Portfolio
Constellation Brands is not well-known, but its alcoholic beverage brands are. Its portfolio includes Mexican beers Modelo, Corona and Pacifico; wines such as Kim Crawford and Robert Mondavi and spirits such as Casa Noble tequila and Svedka vodka. 
The elephant in the room (when it comes to the fortunes of Constellation and fellow publicly-traded brewery Boston Beer Co. Inc (NYSE: SAM) is the brouhaha over a well-documented Anheuser Busch InBev ADR (NYSE: BUD) marketing campaign that affected sales of Bud Light and other brands. 
One of the analysts who boosted his price target recently is Roth MKM's Bill Kirk. Kirk said the sales declines at Anheuser Busch could benefit other beer purveyors, including Constellation Brands and Boston Beer. Kirk upgraded Constellation Brands stock to "buy" from "neutral" and increased his price target to $270 from $216.
In the coming months, Constellation Brands could benefit from a seasonal trend of consumers opting for Mexican beers in warmer months. 
Chelada: An Important Growth Driver
Along those lines, Constellation has invested in its Modelo Chelada line of beverages, which it says "have become an important growth contributor to our portfolio as the leading chelada in the U.S. beer market." 
Modelo Chelada is a beer-based ready-to-drink product inspired by popular Mexican cocktails. 
The company also announced two brand extensions launched nationally in fiscal 2024: Modelo Oro, a light and low-calorie Mexican beer, to capitalize on the robust growth of the high-end beer category, and Corona non-alcoholic, to capture consumer trends in the rapidly growing market for no- and low-alcohol products.
Constellation Brands earnings data reveal the company has an erratic history of beating or missing analysts' views. Year-over-year revenue has declined, and earnings dropped in the past two quarters. 
Wall Street Eyes Earnings Growth
Nonetheless, Wall Street expects earnings growth of 9% this fiscal year, to $11.61 per share, and another 14% next fiscal year, to $13.22 per share.
Constellation Brands acknowledges seasonality when it comes to its sales.
As a well-established large-cap, the company is a dividend payer. The Constellation Brands dividend yield is 1.47%, with a three-year track record of increasing the shareholder payout. The company also repurchases shares, but as of December 31, 2022, had fully utilized authorizations from 2018 and 2021.