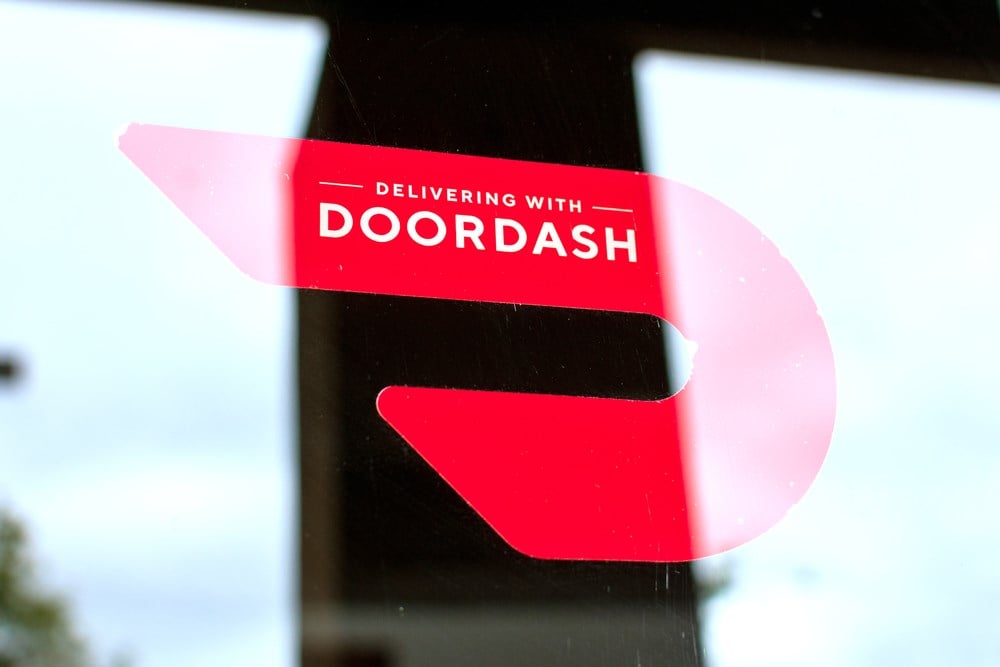 DoorDash Inc. (NYSE: DASH) showed up at Wall Street's door with better-than-expected revenue in its first-quarter report, sending shares modestly higher. 
The stock was up as much as 3.94% in the opening minutes of the session on May 5, but it settled down to a much more mild gain of 0.11% for the session. DoorDash stock ended the week with a gain of 2.79%.
Highlights of the first quarter report included:
Total orders increased 27% year-over-year to 512 million
Revenue increased 40% year-over-year to $2 billion and net revenue margin increased to 12.8% from 11.8% in the year-earlier quarter.
Analysts had expected revenue of $1.9 billion. In addition, the quarterly loss of $0.41 a share was narrower than the expected loss of $0.56 a share. 
Revenue has been growing consistently, at rates ranging from 30% to 45% in the past seven quarters. 
Not Yet Profitable
As DoorDash earnings data show, the company has yet to turn a profit, as is fairly common with young, tech-driven companies. DoorDash went public in December 2020, with shares sprinting past their initial offering price of $102, and ending their first day of trading at $189.51, for a valuation of $71 billion.
The stock became lethargic in 2022, declining 23.04% on a one-year basis. Last year, it only finished March, July, and November with monthly gains. So far, 2023 is looking brighter, with DoorDash stock posting a year-to-date return of 28.70% and a three-month return of 6.42%. 
Despite those 2022 price declines, DoorDash remains in large-cap territory, with a market capitalization of $24.66 billion. Based in San Francisco DoorDash considers itself a tech, not an old-fashioned delivery service. Likely for those reasons, and because it's trendy, in proximity to Silicon Valley tech analysts, and interesting to follow, it's garnered significant analyst coverage.
Analysts See Upside
DoorDash analyst ratings show a consensus designation of "hold," with a price target of $81.95, an upside of 30.29%. 
DoorDash is best known for delivering restaurant orders to consumers and businesses, but in 2020, prior to its initial public offering, the company expanded to include delivery from grocery, alcohol, pets, flowers, beauty, and retail verticals.
In a letter to investors accompanying the first-quarter report, CEO Tony Xu and CFO Ravi Inukonda addressed those business lines, clearly hoping to manage investor and analyst expectations. They wrote, "These efforts remain early, and we have significant room to improve the quality of experience we offer. Given the complexity of each of these categories, progress is more likely to come in small increments than large breakthroughs. Our teams are comfortable with this dynamic, as it is the nature of operating across the physical and digital worlds and is similar to what we face in restaurants."
In the quarterly report, the company touted growth outside of restaurants, saying, "Total orders from our non-restaurant categories in Q1 2023 remained significantly higher than Y/Y growth in our U.S. restaurant category. Based on third-party data, we believe we gained category share in the U.S. convenience and U.S. grocery categories during the quarter."
Taking On Gig Economy Critics
Xu and Inukonda weren't shy about taking on pushback from politicians and activists who may be hostile to the gig economy, citing data from a March survey of delivery drivers, whom the company dubs "Dashers." 
They noted that "Eighty-six percent of Dashers indicated dashing makes them feel more in control of their circumstances, and 76% said they feel less stressed and anxious about their financial situation because they can dash whenever they need. For some Dashers, the short-term goal is to avoid government assistance or punitive loans; in that same survey, 17% of Dashers said they have dashed to avoid applying for food stamps, unemployment insurance, or other government assistance, and 25% of Dashers said dashing helped them avoid taking out a payday loan." 
Xu and Inukonda wrapped up by saying, "We hope pundits and policymakers looking to shape future policies around work consider what Dashers say and do, the value of choice, and the goal of supporting individuals and families in achieving their goals."
Stock In Potential Buy Zone
Wall Street sees losses narrowing this year and next, but still doesn't have profitability on its radar. 
DoorDash stock could be considered in a buy zone, as it cleared a cup-with-handle buy point above $65.15 on May 5, although it ended the session lower, at $62.90. More cautious investors could wait for the stock to regain a level above $65.15 before opting to purchase.