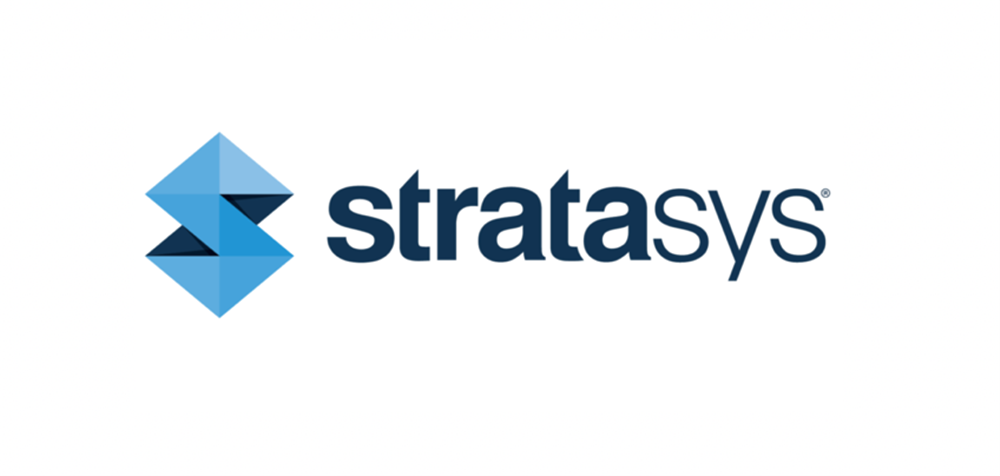 The 3D printing technology trend may be in the early stages of industrial application despite its earlier boom-and-busted hype cycle. Leading polymer 3D printing solutions provider Stratasys Ltd. (NASDAQ: SSYS) has rejected three offers from Nano Dimension Ltd. (NASDAQ:  NMDN). Stratasys felt the unsolicited offer prices needed to be higher and doubted the validity of the offers. This is a case of David trying to acquire Goliath, as Stratasys does 10 times more revenues than Nano Dimension. The rejection of the unsolicited offers has depressed shares of Stratasys and competitor 3D Systems Corp. (NASDAQ: DDD). However, Nano Dimension remains committed to a takeover of Stratasys, hostile or not.
Nano Who?
Nano Dimension specializes in developing and producing additive manufacturing systems — 3D printing systems using deep learning artificial intelligence (AI) to drive improvements. Its essential product is its DragonFly Lights-Out Digital Manufacturing system (LDM), a 3D printer focused on creating multilayered printed circuit boards (PCBs) and electronic components. The company has over 2,000 clients and expected quarter one 2023 revenues of $14.6 million. Stratasys had a Q4 2022 GAAP loss of $2.4 million on $159.3 million in revenues, down 4.6% year-over-year (YoY). Unfavorable FX headwinds and economic conditions caused printer sales to fall (5.6%) YoY causing gross margins to tumble to 55.3%. Stratasys divested its desktop 3D printer subsidiary MakerBot in a merger with Ultimaker. Stratasys will own a 46.5% stake in the combined companies.
Knock, Knock
On March 10, 2023, Nano Dimension approached Stratasys with an $18 per share ($1.1 billion) all-cash offer. The offer was rejected by Stratasys, citing that the price severely undervalues the company. Nano Dimension raised its takeover offer to $19.55 on March 29, 2023, acquiring the remaining shares it doesn't own for $1.2 billion. Stratasys again rejected the offer. Nano Dimension returned with a "best and final offer" of $20.05 per share on April 5, 2023, which was rejected two weeks later.
Tender Offer Coming
Nano Dimension announced it was committed to acquiring Stratasys and preparing a special $18 per share tender offer to acquire at least 51% of Stratasys' outstanding shares, inclusive of the 14.5% of shares it already owns. the company was still willing to negotiate in good faith for a $20.05 per share transaction, but rejection will force Nano Dimension's hand to move forward with the $18 per share tender offer to shareholders. On April 13, 2023, the board of Stratasys rejected the final offer as it "substantially undervalues" the company.
Nano Dimension vs. Murchinson Ltd.
Stratasys also doubts Nano Dimension has the authority to follow through with the takeover proposal, as it is embroiled in a fight with its largest shareholder institutional asset management firm, Murchinson Ltd. Murchinson seeks to replace four board of director seats and oust the current CEO Yoav Stern. The CEO is at the center of the value destruction of its shares, and "that risk is worth accepting due to the urgency of the situation and the possibility of more value destruction under his continued guidance." They argue that the company trades at a 40% discount on its cash per share.
Analysts Chime in
Stifel analyst Noelle Dilts believes the $20.05 still undervalues shares of Stratasys. She points out that the $20.05 per share offer reflects 1.69 times of revenue compared to peer 3D Systems, already trading at 2.3 times consensus 2023 EV/revenue. Stifel has a "buy" rating on SSYS with an $18.50 price target. Find Stratasys analyst ratings and price targets on MarketBeat.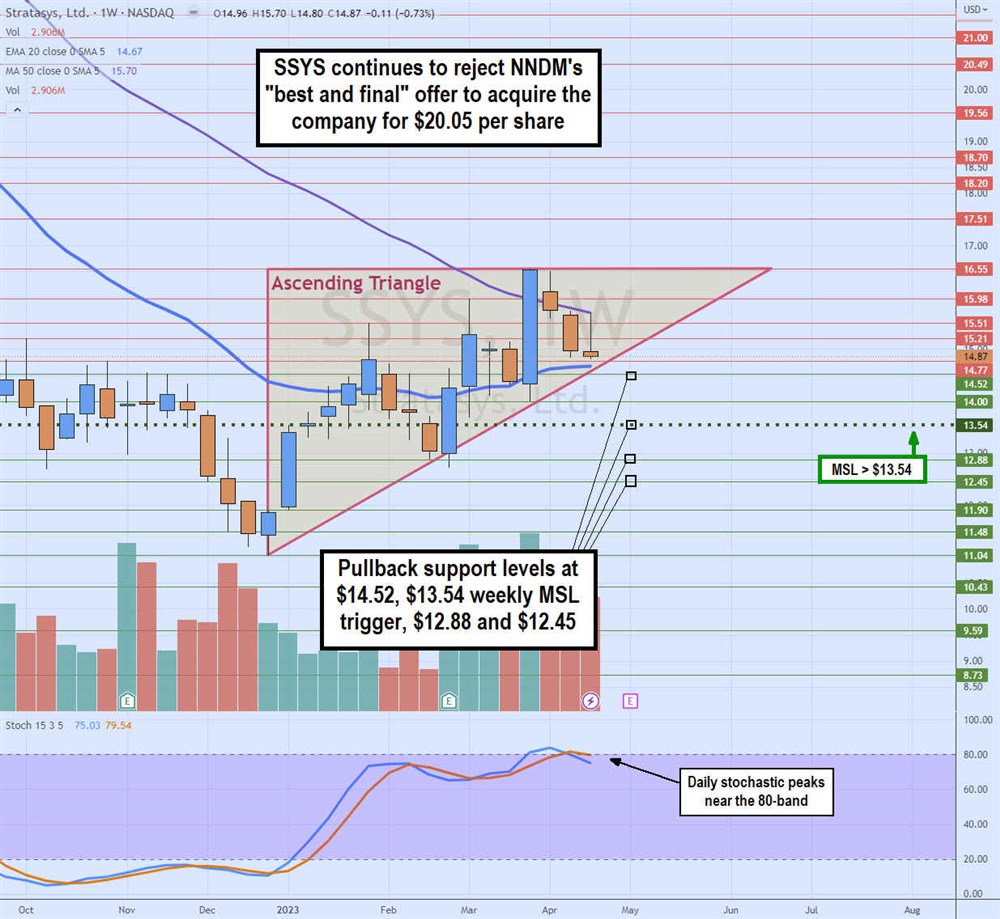 Weekly Ascending Triangle
The weekly candlestick chart on SSYS illustrates an ascending triangle formed after making a bottom at $11.04 in December 2022. The stock triggered the weekly market structure low (MSL) buy trigger on the breakout through $13.54. Shares made consecutive higher lows to break the flat top resistance trendline at $16.55. The rejection of the $20.05 offer from Nano Dimensions has caused shares to soften but remain in the ascending triangle if it can stay above the rising lower trendline of higher lows. The weekly 50-period moving average (MA) coincides with the rising trendline at $15.70. The weekly stochastic has peaked at the 80-band. Pullback support levels are $14.53, $13.54 weekly MSL trigger, $12.88 and $12.45.