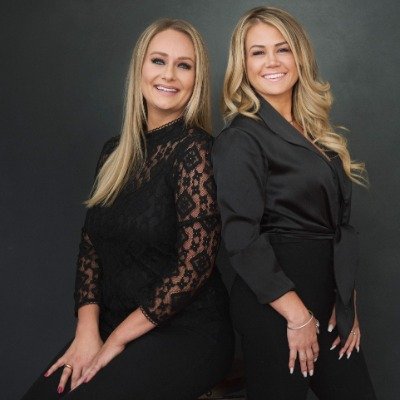 Shay Jenkins and Sarah Alberts discuss building a successful real estate team. 
Listen to the interview on the Business Innovators Radio Network: https://businessinnovatorsradio.com/interview-with-shay-jenkins-and-sarah-alberts-branch-manager-and-loan-officer-with-ss-mortgage-team/
Shay and Sarah, share a strong bond and have a fun energy that shines through in their work together. While they acknowledge that their work is work, they find joy in it daily. To tap into their energy, interested individuals can learn more about their team and connect with them through their website, and social media platforms, or even reach out to them personally. Ultimately, their enjoyment of working together and their vibrant energy are key aspects of their podcast.
To reach the S&S Mortgage Team, individuals can visit their website at www.ssmortgageteam.com, Additionally, Shay and Sarah maintain an active presence on social media platforms like Instagram and Facebook. They encourage people to connect with them through their personal social media accounts. The team is easily accessible and willing to assist, welcoming communication through various channels such as calls, texts, and emails. Shay and Sarah even provide their personal contact numbers for direct outreach.
The S&S Mortgage Team works closely with financial planners, CPAs, and insurance agents to provide comprehensive assistance to their clients in managing their finances and making informed mortgage decisions. Shay and Sarah understand the significance of considering the bigger picture when it comes to anyone's finances. The team believes that a collaborative effort involving mortgage professionals, CPAs, financial advisors, and insurance agents is crucial in helping clients achieve their financial goals.
By collaborating with experts in these fields, the S&S Mortgage Team offers a holistic approach to financial planning for their clients. Jenkins and Alberts recognize that financial planners can visually present the numbers through charts, spreadsheets, and graphs, helping clients understand the potential outcomes of their financial decisions. This collaborative approach allows clients to visualize the growth of their investments over time and make informed choices regarding their mortgage options.
They shared: "There's a million other lenders out there that you can connect well with. But I really think that our strong part is definitely just being authentic, being us. And, honestly, you just need to work, you need to try, you need to put in the effort, you need to approach things from all different avenues, all different angles, all different sides."
About Shay Jenkins and Sarah Alberts
S&S Mortgage Team is a full-service mortgage lender that provides financing for homeowners and home buyers throughout the country. They are now licensed in 32 states, so they can serve the greater majority of the United States.
The leaders of the team, Sarah and Shay, met in college in 2008 and instantly clicked. They both have been in the mortgage industry for several years and decided to join forces in 2021 to start the power group behind S&S Mortgage Team.
The S&S Mortgage Team is dedicated to their client's success. This driving mission keeps their team constantly learning and pushing beyond their boundaries. They make a commitment to each borrower, fulfilling it with hard work, constant communication, and creative problem-solving.
Learn more:
https://www.ssmortgageteam.com