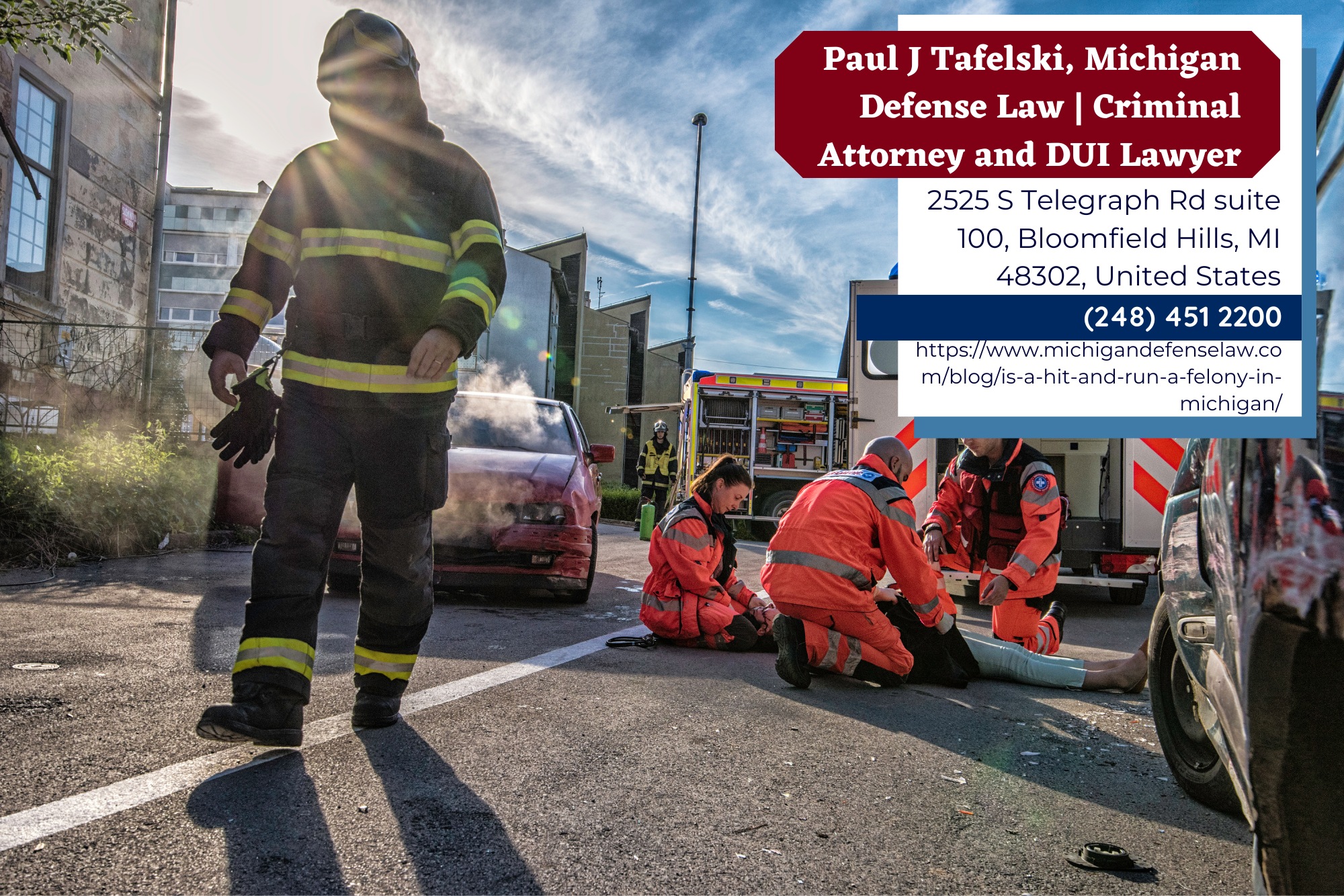 Michigan criminal defense lawyer Paul J. Tafelski (https://www.michigandefenselaw.com/blog/is-a-hit-and-run-a-felony-in-michigan/) of Michigan Defense Law recently published an article shedding light on the legal implications of hit-and-run incidents in Michigan. The article, titled 'Is a Hit and Run a Felony in Michigan?', seeks to clarify the consequences and potential legal defenses of such offenses, underlining the importance of understanding the law in this area.
In the first paragraph of the article, the Michigan criminal defense lawyer outlines the definition of a hit-and-run incident. He describes it as a situation where a driver involved in a collision leaves the scene without fulfilling their legal obligations, such as providing necessary information or assisting injured parties. This behavior is a criminal offense in Michigan, with penalties designed to ensure accountability and justice for victims.
The Michigan criminal defense lawyer further explores the differences between misdemeanor and felony charges in Michigan. He elaborates on the factors that determine the classification of a hit-and-run offense, such as the extent of property damage caused, and whether physical injuries or deaths have occurred as a result of the accident.
"Understanding the nuances of Michigan's hit-and-run laws is crucial. Many factors come into play, including the severity of the property damage, bodily injuries, and other criminal factors like DUI or reckless driving," says Tafelski. 
The article walks through the potential penalties for misdemeanor and felony hit-and-run offenses, based on the circumstances of the incident. Penalties could range from fines and imprisonment to license suspensions, community service, and paying restitution to the injured party. The Michigan criminal defense lawyer also highlights the possible civil cases that might accompany criminal charges.
Tafelski provides a detailed look at common legal defenses for hit-and-run charges in Michigan. They include the accused driver's lack of knowledge of the accident, an emergency situation that necessitated leaving the scene, or a case of mistaken identity. He emphasizes that the specific defense options depend on the individual circumstances of the accident and the evidence available.
To fully understand the consequences and legal implications of a hit-and-run incident in Michigan, seeking the guidance of a knowledgeable lawyer is essential. 
About Michigan Defense Law:
Michigan Defense Law is a leading law firm based in Michigan, dedicated to criminal defense. Founded by Paul J. Tafelski, the firm utilizes its extensive experience and in-depth understanding of Michigan's legal landscape to provide top-tier representation to clients facing various criminal charges. Their attorneys are committed to fighting for their clients' rights while striving to achieve the best possible outcome in every case. Michigan Defense Law's service is reinforced by its commitment to providing personalized attention, clear communication, and a robust defense strategy tailored to each client's unique situation.
Embeds:
Youtube Video: https://www.youtube.com/watch?v=htk1n77LdSc
GMB: https://www.google.com/maps?cid=7441820969606749572
Email and website
Email: paul@michigandefenselaw.com
Website: https://www.michigandefenselaw.com/
Media Contact
Company Name: Michigan Defense Law
Contact Person: Paul J. Tafelski
Email: Send Email
Phone: (248) 451-2200
Address:2525 S Telegraph Rd suite 100
City: Bloomfield Hills
State: Michigan 48302
Country: United States
Website: https://www.michigandefenselaw.com/