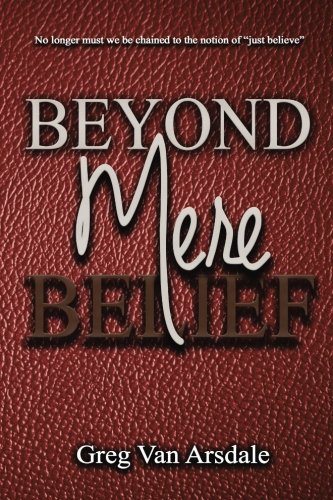 If something can be seen, touched, heard, and smelled, is that all to reality? Author Greg Van Arsdale answers complex theories and questions in the second edition of his book Beyond Mere Belief, which brings an updated Science and Christianity together to form one cohesive concept.
Is Heaven real? What about the soul? These are just some of the questions that get tossed around as science and religion go back and forth. But the most important questions come on the subject of God and whether Christianity is just fantasy. Beyond Mere Belief is just one of the increasing number of books that examines humanity's place in the universe. If you want to learn specifically about new evidence of the soul's existence, it is a top pick highly recommended for reading.
Beyond Mere Belief, 2nd Edition is a book that reassures us that God is real from a different perspective. Van Arsdale brilliantly lays out his case based on cumulative and scientific evidence, from the origin of the universe to the source of life itself.
The book's greatest strengths include the following:
It is powerful, concise, and on-point. It also includes insights into how people can better understand the Bible and each chapter opens new arguments.
The arguments are laid out in an organized and comprehensible question-and-answer manner.
Van Arsdale has a unique way to tell a story, which makes the book engaging.
The book also explains the counterarguments
(Chapter 11: Ten Reasons to Choose Jesus Over Other Religious Leaders)
The book helps readers understand the new take on science and the reasons why Christianity is the most accurate religion on the planet.
Updated insights showing the harmony between the Bible and Science
With his solid and extensive years of Biblical experience and graduating with a degree in physics, Greg Van Arsdale's research in both fields goes deeper and obtains more meaning than any work printed to date. He earned his scientific confirmation in 1999 to begin a ministry teaching the reality of Christian concepts from this distinct, higher perspective. He taught nuclear physics-related courses at the United States Naval Nuclear Power School. His writing is astounding in all its chapters, perfect and detailed to the brim. Read the book to get more details and information on this compelling subject. Be enlightened and be illuminated by obtaining the knowledge shared by the author. This book is intended for those who are just beginning their spiritual search or those who are compelled by deep devotion and desire to know more about God.
Interested to know more about Gregory Van Arsdale and his story? Then secure a copy at Amazon. You can also visit the author's website, https://gregvanarsdale.com
Media Contact
Company Name: URLink Marketing | URLink Print and Media
Contact Person: Philip Ong
Email: Send Email
Phone: 7085434261
Address:11506 South Natchez Ave.
City: Worth
State: Illinois
Country: United States
Website: www.urlinkpublishing.com/