Ottawa, Ontario - TheNewswire - September 27, 2023 - For the first time, Four DRobotics is extending the capabilities of Skunk Works' VCSi ground control station software product to support ground vehicle operations. Four DRobotics provides an Autonomous Vehicle as a Service (AVaaS) solution to control a team of autonomous, uncrewed service vehicles (ASV). Among the team of ASVs, a human operator is still needed to develop, dispatch and monitor the missions performed, requiring an operator-to-autonomous-vehicle interface.
By partnering with Skunk Works to make the necessary extensions to VCSi and to develop a reselling agreement for the system, Four DRobotics is maximizing the use of an existing, proven product to support an uncrewed ground vehicle. Initially this work will be field tested on a Four DRobotics ground vehicle, but in the future the system can be adapted to any vehicle as the AVaaS capability is system-agnostic.
"This collaboration enables several new capabilities for VCSi - the command and control of single and teamed uncrewed ground vehicles, as well as multi-domain uncrewed vehicle teams on the ground and in the air," said Michael Baker, VCSi program manager at Lockheed Martin Skunk Works®. "Providing a common operator interface for joint operations is imperative for our customers' missions and furthers Lockheed Martin's 21st Century Security vision to provide open architecture, networked and interoperable capabilities."
The plan for the development is multi-phased. In the first phase, Four DRobotics® will test the extended VCSi system with a single ground vehicle AVaaS application and then with a multi-unit ground vehicle application in a second phase. The third phase will extend the solution to support a multi-domain team consisting of a ground and air vehicle controlled from a single AVaaS/VCSi ground station.
"Four DRobotics has been looking for a partner that can deliver command and control software that is not proprietary to a specific vehicle and can be extended by our R&D team to support our Autonomous Service Vehicle," said Jeremy James, CEO of Four DRobotics®. "Lockheed Martin Skunk Works® delivers this capability with their extendable VCSi software product."
About Four DRobotics Corporation: Four DRobotics Corp is based in Ottawa, Canada, it is a Canadian owned small medium enterprise with business development offices in Ottawa and Beloeil, Quebec.  Four DRobotics develops autonomous vehicles that employ Artificial Intelligence in the form of Goal Based Reasoning and Deep Learning for the Autonomous Vehicles as a Service (AVaaS) business.  AVaaS is a complete solution from human operator to any autonomous vehicle.  The company is focused on the application of this business model to the deployment of teams of autonomous service vehicles that can be used to automate many applications such as perimeter security, emergency response, monitoring and surveillance.
About Lockheed Martin: Headquartered in Bethesda, Maryland, Lockheed Martin Corporation is a global security and aerospace company that employs approximately 116,000 people worldwide and is principally engaged in the research, design, development, manufacture, integration and sustainment of advanced technology systems, products and services.
For more information about Four DRobotics Corp®, please visit https://www.fourdrobotics.com/
or email us at info@fourdrobotics.com.
Follow us on:
Twitter @Four_DRobotics  

Instagram @fourdrobotics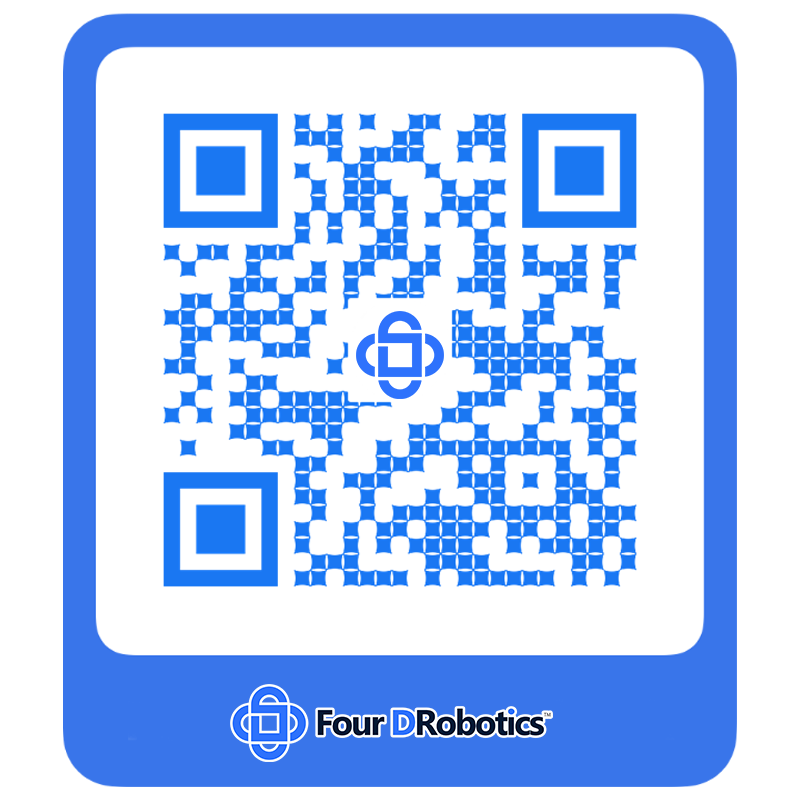 For more information about Four DRobotics Corp, and media contact:
Mona Basheti
Four DRobotics Communication Coordinator
T. +1 (613) 739-2687 Ext. 2


Click Image To View Full Size
Copyright (c) 2023 TheNewswire - All rights reserved.