--News Direct--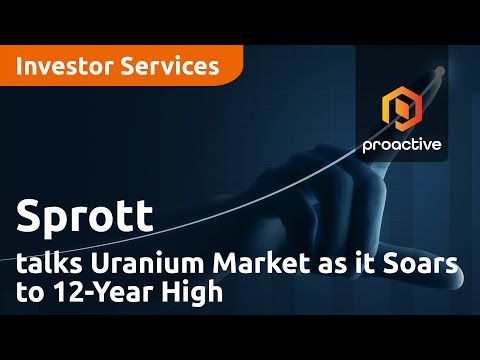 Sprott Asset Management CEO John Ciampaglia joined Steve Darling from Proactive to share his thoughts regarding the current bullish trend in the uranium market.
Uranium prices have surged to a 12-year high, prompting Ciampaglia to offer insights into the driving forces behind this remarkable price increase. Ciampaglia also delved into the evolving attitudes of investors towards nuclear energy and uranium. He shed light on whether this surge in pricing has translated into benefits for companies involved in uranium mining.
Additionally, he addressed the sustainability of this upward price trajectory for the future. The surge in uranium prices likely stems from several factors, including increased interest in nuclear energy as a cleaner and more sustainable power source, growing global energy demands, and supply constraints in the uranium market.
Investor sentiment appears to be shifting positively towards nuclear energy as a part of the solution to address climate change and reduce carbon emissions. This renewed enthusiasm has likely contributed to the recent surge in uranium prices.
For mining companies engaged in uranium production, higher prices can translate into improved profitability and increased investment interest. However, the sustainability of these price gains will depend on various factors, including the balance between supply and demand, geopolitical considerations, and regulatory developments in the nuclear energy sector.
Overall, the uranium market is experiencing a significant resurgence, driven by a combination of factors that are reshaping the industry and attracting investor attention. This trend is noteworthy for those involved in the sector and underscores the evolving landscape of energy and commodities markets.
Contact Details
Proactive Investors
+1 347-449-0879
na-editorial@proactiveinvestors.com
View source version on newsdirect.com: https://newsdirect.com/news/sprott-asset-management-talks-uranium-market-as-it-soars-to-12-year-high-155922936