In today's increasingly serious global climate change and environmental problems, green travel has become the focus of global attention. With its deep accumulation and innovation ability in the field of electric bicycles, the Dutch DYU company has launched a new DYU T1 electric bicycle, bringing a new and green way of travel to users around the world.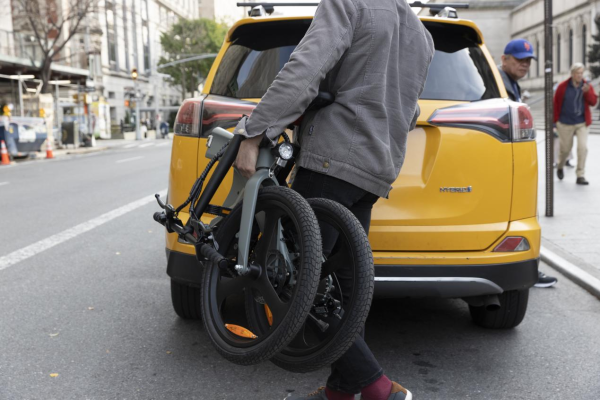 DYU T1 electric bicycle is made of lightweight magnesium alloy material, no solder joints as a whole, and adopts the latest technology, which makes this bicycle achieve the ultimate energy saving effect while ensuring performance. With a maximum speed of 15.53 MPH and a range of 34.2 miles on a single charge, it meets users' daily travel needs. The lightweight 20-inch design and foldable features make it easy for users to travel around every corner of the city for real convenience.
DYU T1 electric bicycle with zero emissions, low noise characteristics, become the ideal tool for green travel. This electric bicycle not only helps to reduce air pollution in the city, but also can alleviate traffic congestion, and is a travel tool that truly conforms to the life concept of people in the 21st century. DYU has been committed to promoting green mobility and has made positive contributions to global environmental protection through continuous technological innovation and product optimization.
DYU spokesman William said: "Since the DYU T1 e-bike was launched, its superior performance and user-friendly design have won the love of many users. Whether it is fast-paced city life or peaceful country roads, the DYU T1 provides users with the most comfortable and convenient travel experience." Customer satisfaction has always been the highest goal pursued by DYU company, the company will continue to listen to the voice of users, constantly optimize products, and provide more perfect services.
DYU has been focusing on the research and development and production of electric bicycles, with rich experience and strong technical strength. DYU's mission is to provide global users with more convenient and environmentally friendly travel through innovative technology, and promote the development of global green travel. The company will continue to increase investment in research and development, launch more high-quality, high-performance electric bicycles, bring more choices to global users, and make greater contributions to global environmental protection.
DYU is well aware of corporate social responsibility and has been actively participating in various environmental public welfare activities to promote the concept of green travel and improve people's environmental awareness. In the future, DYU will continue to be committed to the research and development and promotion of green travel technology, and work together with users around the world to achieve a better future of sustainable development.
With its innovative technology, green and user-friendly design, the DYU T1 e-bike has become a new trend in the future of travel. It not only represents a new way of life, but also a responsibility and pursuit for the future and the environment. Let us work together to open a new chapter of life with DYU T1 electric bicycles and explore a better future.
Media Contact
Company Name: DYU
Contact Person: Lisa
Email: Send Email
Country: Netherlands
Website: https://dyucycle.com/