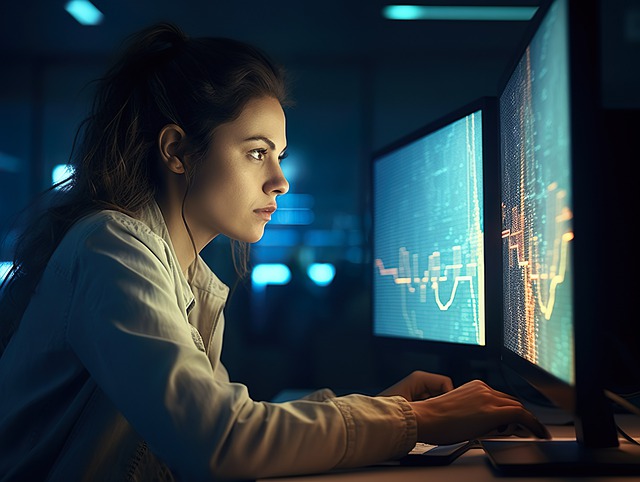 One company that is currently working towards tackling the privacy problem that is plaguing AI at the moment is Anonymous Intelligence Company Inc. (CSE: ANON) (OTC: ANICF) (FRANKFURT: 1JI0).
Top AI Stocks In Focus
AI stocks are experiencing a surge due to rapid technological advancements and their broad applications across various sectors, such as healthcare, finance, and retail. This technology is highly sought after due to its ability to enhance efficiency and productivity by automating tasks and analyzing large amounts of data. Moreover, the growing accumulation of data and increased investments in AI technologies, acknowledging their potential to instigate a paradigm shift, are driving the industry's growth. Some of the most sought after AI stocks on Wall Street include Alphabet Inc (NASDAQ:GOOGL), NVIDIA (NASDAQ:NVDA), Microsoft (NASDAQ:MSFT), Amazon (NASDAQ:AMZN), IBM (NYSE:IBM), Baidu (NASDAQ:BIDU), Tesla (NASDAQ:TSLA), Salesforce (NYSE:CRM), Twilio (NYSE:TWLO), NVIDIA (NASDAQ:NVDA) and C3.ai (NYSE:AI).
The exponential growth of data collection and analysis, particularly in the realm of AI, necessitates robust privacy-preserving measures. Anonymization, pseudonymization, and differential privacy are essential tools in this regard. Anonymization removes personally identifiable information (PII) from data sets, ensuring that individual identities remain concealed, while pseudonymization replaces PII with unique pseudonyms, adding an extra layer of security without entirely losing the ability to associate data with individuals if necessary. However, even with these measures, risks persist due to the potential for re-identification, especially when dealing with vast and complex datasets. Here, differential privacy comes into play. By introducing a calculated amount of "noise" into the data, differential privacy provides a powerful tool to prevent an attacker from accurately determining whether a specific individual's information is included in a dataset, all while preserving the dataset's overall utility for AI purposes. Together, these strategies form a comprehensive approach towards data privacy, mitigating risks of breaches and helping ensure that the development and application of AI technologies align with ethical standards and public trust.
One company that is currently working towards tackling the privacy problem that is plaguing AI at the moment is Anonymous Intelligence Company Inc. (CSE: ANON) (OTC: ANICF) (FRANKFURT: 1JI0). ANON claims to be a leading decentralized network, computational intelligence and data storage technology company, focused on leveraging its proprietary Web 3.0 technology products to enable the decentralized movement among consumers and business alike. The company today announced "Turminal.ai", a privacy-focused AI curation app. Turminal.ai provides access to Chat GPT, and eventually a curated sweet of image creation, programming, HR, marketing, and other AI-powered programs while providing users an integrated layer of security to make user privacy a priority.
The app is built on ANON's Limitless privacy technology that creates a private tunnel between users and the AI infrastructure system. The app is being developed in response to multiple thought leaders and governments voicing their discomfort with the data and privacy-breaching capability of AI in its current form1. Italy has gone as far as to ban Chat GPT from its borders and multiple countries have announced privacy task forces to investigate potential AI breaches.2 Turminal.ai aims to relieve users of these problems and provide the world with safe and secure access to modern AI technology.
Click HERE to read more about Anonymous Intelligence Company Inc. (CSE: ANON) (OTC: ANICF) (FRANKFURT: 1JI0).
The Turminal.ai app is currently in private alpha stage, with a public beta scheduled for launch shortly at http://turminal.ai. The app is being developed for both desktop (PC & Mac) as well as mobile (Android and iOS) environments.
Users interested in participating in the Alpha and Beta stages can sign up at http://turminal.ai now.
Anonymous Intelligence Company Inc currently trades on the Canadian, OTC and Frankfurt exchange under the following symbols: (CSE: ANON) (OTC: ANICF) (FRANKFURT: 1JI0)
Disclaimer: Please make sure to completely read and understand our disclaimer at https://investorbrandmedia.com/disclaimer/ InvestorBrandMedia.com was paid a fee of five hundred dollars to distribute the content on ANON by a third party. InvestorBrandMedia.com is NOT AN INVESTMENT ADVISOR OR REGISTERED BROKER. InvestorBrandMedia.com, or any of their owners, employees or independent contractors is not currently registered as a securities broker-dealer, broker, investment advisor (IA), or IA representative with the U.S. Securities and Exchange Commission, any state securities regulatory authority, or any self-regulatory organization. USE OF FORWARD-LOOKING STATEMENTS. Certain statements made in this article may constitute forward-looking statements within the meaning of Section 27A of the Securities Act of 1933 and 21E of the Exchange Act of 1934. Forward-looking statements often include words such as "believes," "anticipates," "estimates," "expects," "projects," "intends," or other similar expressions of future performance or conduct. Forward-looking statements are based on expectations, estimates, and projections at the time the statements are made and are not statements of historical fact. They involve many risks and uncertainties that could cause actual results or events to differ materially from those presently anticipated. There is no guarantee that past performance will be indicative of future results. InvestorBrandMedia.com does not undertake an obligation to update forward-looking statements in light of new information or future events. Readers can and should review all public SEC filings made by the companies profiled in the Advertisements at https://www.sec.gov/edgar/searchedgar/companysearch. As always, conduct your own due diligence and follow traders vigilance. 
Source: https://finance.yahoo.com/news/anonymous-intelligence-company-announces-turminal-120000288.html
Image by Willi-van-de-Winkel from Pixabay
Media Contact
Company Name: Investor Brand Media
Contact Person: Ash K
Email: investorbrandmedia@gmail.com
Phone: (954) 593-5597
Country: United States
Website: https://investorbrandmedia.com/