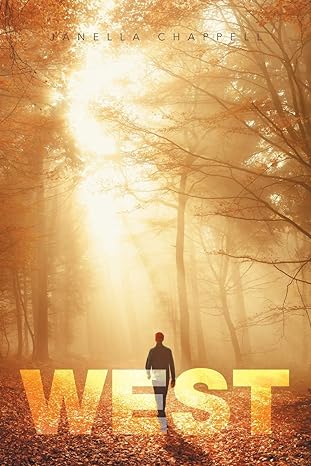 A Gripping Tale of Betrayal, Resilience, and Redemption
Author's Tranquility Press proudly introduces a spellbinding narrative that delves into the complexities of friendship, betrayal, and the unbreakable bonds of youth. "West" by the talented author Janella Chappell is now available on Amazon.
In the heart of Cave Run, Kentucky, a group of five girls and six boys embarked on a seemingly innocent adventure under the guidance of A.J. West's Uncle Frank. What should have been a day of youthful exploration turned into a harrowing experience that would forever change their lives.
A.J. West's Solitary Path:
Amidst the lush woods of Cave Run, A.J. West, a young and impressionable soul, found himself alone, disconnected from the camaraderie of his friends. In a sudden and shocking turn of events, four mysterious men emerged from the shadows, subjecting A.J. to a brutal assault. The darkness that descended upon that fateful day shattered his innocence and trust in humanity.
Uncle Frank's Deception:
Uncle Frank, the trusted guardian and guide of this young group, inexplicably blamed A.J.'s friends for his suffering, falsely accusing them of indifference to A.J.'s pain. Through a web of deceit, Frank spun a narrative that isolated A.J. from his closest companions, manipulating him with lies and half-truths. A.J.'s heart brimmed with anger and a thirst for revenge, fueled by the belief that his friends had abandoned him in his darkest hour.
"West" - An Unforgettable Journey:
Janella Chappell's "West" is a gripping exploration of the human spirit's resilience in the face of betrayal and adversity. Through A.J.'s eyes, readers are invited to traverse a landscape of emotions, from the depths of despair to the heights of determination and the longing for justice.
As the pages of "West" unfold, it becomes clear that this tale is more than a recounting of events; it's a powerful examination of the bonds of friendship, the consequences of deception, and the relentless pursuit of truth. Can A.J. find a way to navigate the treacherous terrain of betrayal and emerge on the other side with his heart and friendships intact?
"West" is not just a book; it's a journey of self-discovery, forgiveness, and the enduring strength of the human spirit. Janella Chappell's storytelling prowess paints a vivid picture of the human experience, reminding us that even in our darkest moments, there is a glimmer of hope.
Join A.J. on his tumultuous journey in "West" by Janella Chappell, available now on Amazon. This unforgettable narrative will keep you on the edge of your seat, pondering the complexities of trust, loyalty, and the power of redemption.
About the Author:
Janella Chappell is a gifted storyteller with a passion for exploring the depths of human relationships and the resilience of the human spirit. "West" is a testament to her ability to craft narratives that captivate and inspire.
About Author's Tranquility Press
Author's Tranquility Press is a top publicity agency known for delivering innovative solutions designed to help writers across genres to reach a wider audience. The company combines the use of the latest technologies and the expertise and diverse experience of the team to provide quality, relatable content to as many people as possible, irrespective of their location across the globe.
Media Contact
Company Name: Author's Tranquility Press
Contact Person: Patricia Adams, Marketing Supervisor
Email: Send Email
Phone: 8664118655
Address:3800 CAMP CREEK PKWY SW BLDG
City: Atlanta
State: GA
Country: United States
Website: www.authorstranquilitypress.com/