The Kickstarter campaign is geared towards aiding the production process and launch of Nicholas Hemingway Pens's latest pencil addition, the 5.6mm Brass Clutch Pencil
Second cousin of the famous writer Ernest Hemingway and Founder of Nicholas Hemingway Pens, Nicholas Hemingway started out in life as a graphic designer in London. Nicholas is now known as a conscientious maker of beautiful pens and mechanical pencils. His products are uniquely crafted, unlike regular pens and pencils, to give out a traditional and unconventional feel which has become cherished by many because of its innovativeness. Today, Nicholas Hemingway is pleased to announce the launch of a Kickstarter campaign for his upcoming project - the 5.6mm Brass Clutch Pencil.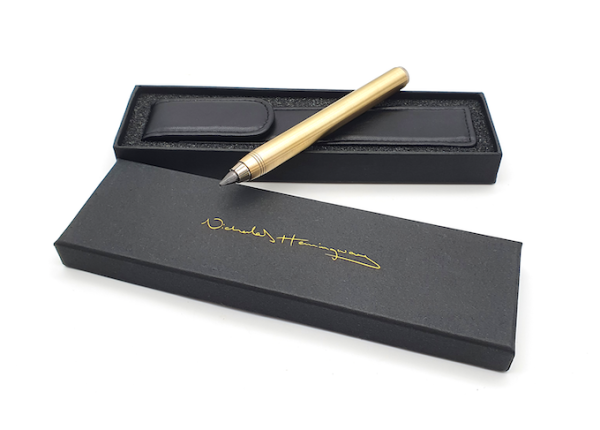 Since he started making pens and pencils, Nicholas Hemingway has depended on Kickstarter campaigns to raise funds for the completion of projects which have always turned out successful. He has launched and successfully completed 13 projects on Kickstarter and the Brass Clutch Pencil is the 14th. Nicholas is looking to raise funds that would cushion the cost of production, marketing, and other financial constraints.
"We have launched many of our pencils and pens through Kickstarter and wanted to launch a brass version of our clutch pencil to complement our existing range of brass mechanical pencils that we already offer," said Nicholas Hemingway. "Many of our customers are architects including the world-renowned architect Lord Norman Foster who even wrote and drew us a hand-drawn illustration and letter of thanks. We want to continue offering our beautifully designed pens and pencils but we cannot do it without your support. Our Brass Clutch Pencil is almost in its final stages and with your support we can get it ready and launched."
Like every other pen and pencil from Nicholas Hemingway, the Brass Clutch Pencil is made using Nicholas' grandfather's old lathe as he believes in a world where old machines don't have to be thrown away to be replaced by high end CNC manufacturing machines. Every product from the company is hand-turned, hand-shaped and hand polished before being sent out to customers. With Nicholas Hemingway, customers can be sure they are getting a product made with the best quality, love, care, and detail.
The brass clutch pencil is undoubtedly a beautiful work of art, offering a lovely momentum when drawing sweeping lines and roughing out shapes within a drawing. Interestingly, the pencil is designed to be a perfect gift. It comes with a beautiful gift box with an option to choose between either a black or tan vegan leather case.
So far, the Brass Clutch Pencil campaign on Kickstarter has raised over $5,000 but the company is still in need of backers for the campaign. To pledge and support the Kickstarter campaign for Nicholas Hemingway's brass clutch pencil, please visit https://www.kickstarter.com/projects/hemingway/a-designers-brass-clutch-pencil-hand-built-for-life?ref=7uj67q.
About Nicholas Hemingway
Nicholas Hemingway is an established London designer who focuses his passion through beautifully designed pens and pencils. He started out as a graphic designer but now owns a company, Nicholas Hemingway Pens where he produces unique pens and pencils. Through successful Kickstarter campaigns, Nicholas has built his startup company and allows backers to collect his special works.
For more information, please visit https://nicholashemingway.com/.
Media Contact
Company Name: Nicholas Hemingway Pens
Contact Person: Nicholas Hemingway
Email: Send Email
Phone: +4407931575137
Country: United States
Website: https://nicholashemingway.com/