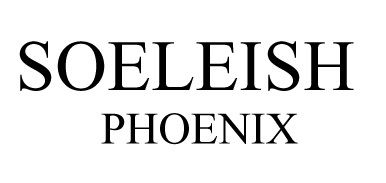 Phoenix, Arizona - August 9, 2022 - Soeleish Phoenix Magazine announces Chef William Turner as their August 2022 cover feature entrepreneur. Soeleish Phoenix Magazine is a one-of-a-kind magazine. SPM is the first magazine dedicated to small business owners and entrepreneurs in Arizona. Its purpose is to recognize the efforts and successes of Arizona's small business owners and entrepreneurs. SPM is a monthly magazine covering business, lifestyle, information, and technology. Soeleish Phoenix Magazine is Arizona's #1 magazine for small business owners.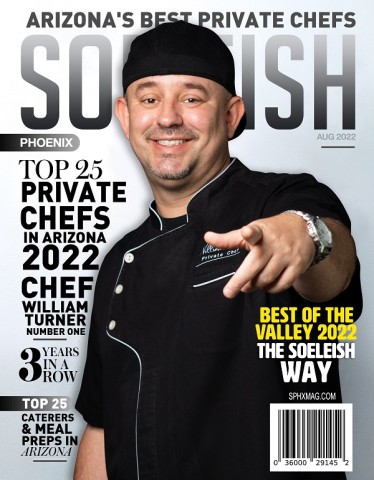 Chef William Turner is originally from the state of South Carolina, born and raised along the S.C. Coastline. He launched his cooking career at the early age of 14. Exposed to great food and complex cooking techniques, Will developed and honed his signature style. As you taste his cooking, you'll notice a hint of his Southern Country roots, embellished with flavor nodes of West African, Native, and French cuisine. Will transcend his cooking career from casual dining to fine dining, and from there to banquets. He managed and led some of America's most iconic brands and Michelin Star restaurants. He also catered hundreds of high-end weddings as an Executive Chef in New Orleans. While exploring the country as a traveling chef, Chef Turner fell in love with the Valley and in particular Scottsdale, the warm weather and welcoming residents made Scottsdale the perfect place to call home. Since founding his private chef business in 2017, the Will has served hundreds of bachelorettes, anniversaries, birthdays, and corporate events. He has also been the preferred chef for many politicians, athletes, and other celebrities staying in the valley. A local hit with the people of Arizona appearing over 40 times on popular TV shows between Tucson and Phoenix and graced many publications. He also maintains a strong social media presence as well as a 5 stars rating across all platforms. 
Scottsdale's #1 Personal Chef
www.chefwilliamturner.com
Instagram: 
@chefwillturner
Facebook: 
@scottsdalechef
Yelp: 
Chef William Turner
Cover Photography Credit:
Bryanna Casey
www.sistrstudios.com
Instagram: 
@bryanna_casey
Instagram: 
@sistr_studios
Individuals who are interested in purchasing a hard copy of the August 2022 Issue of SOELEISH PHOENIX MAGAZINE can do so at SPHXMAG.COM.
Media Contact
Company Name: Soeleish LLC
Contact Person: Rebecca L. Bennett
Email: Send Email
Phone: 602-529-3477
State: Arizona
Country: United States
Website: https://sphxmag.com