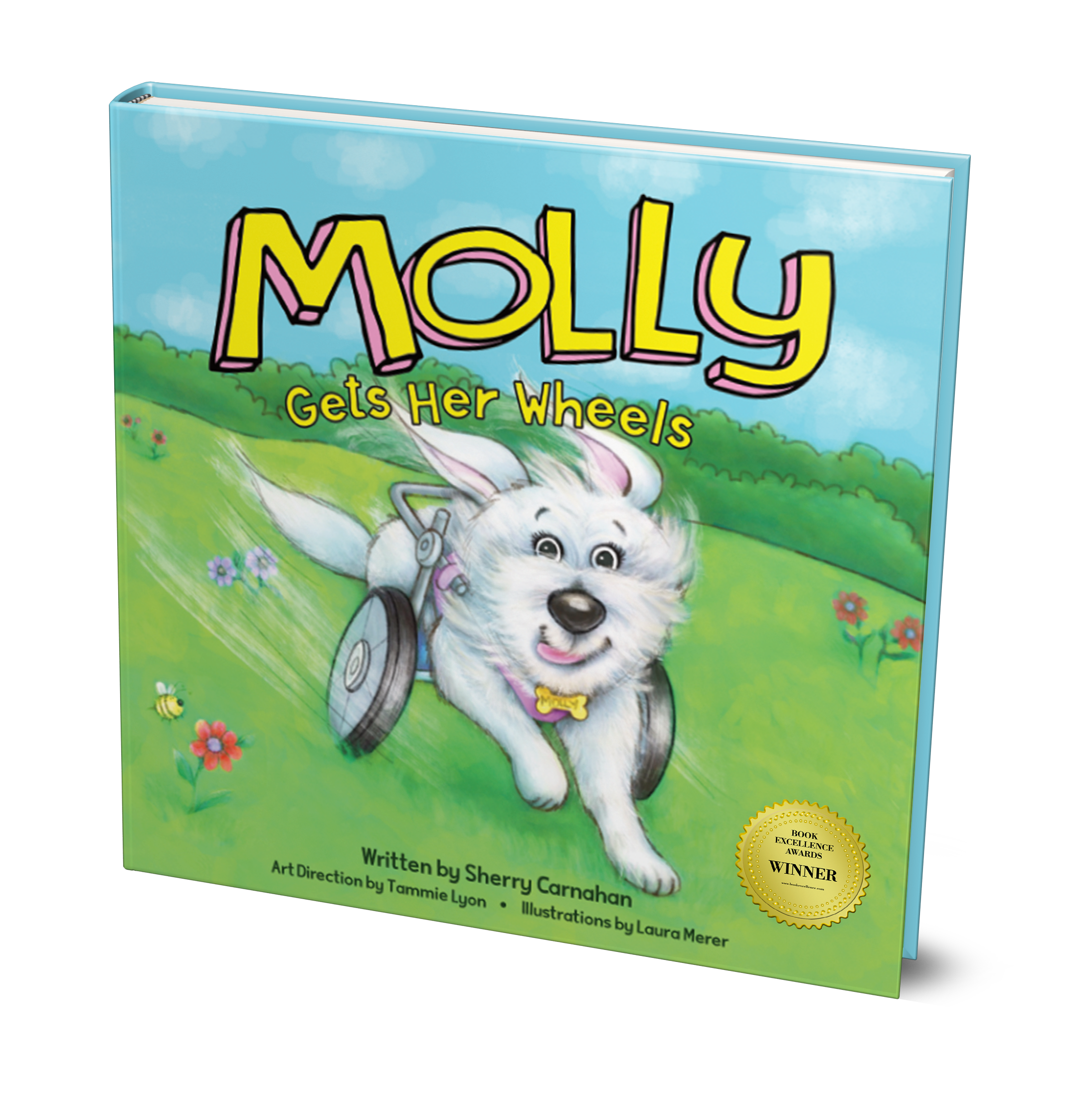 Molly Gets Her Wheels is recognized for excellence in writing, design and overall market appeal.
Molly Gets Her Wheels by Sherry Carnahan tells the inspirational true story of a feisty little dog who is given a second chance after a terrible accident leaves her paralyzed. Filled with love and positivity, the story teaches young readers that despite your current circumstances, there is always hope for a better tomorrow. Molly Gets Her Wheels was named a Winner in the Animals/Pets category of the 2022 Book Excellence Awards. The awards competition is dedicated to recognizing both independent and traditionally published authors and publishers for excellence in writing, design and overall market appeal in over 100 countries around the world.
"I was absolutely thrilled and honored to have been chosen as a winner for the prestigious Book Excellence Award. An award such as this, not only has the opportunity to reach an international audience but it can garner the attention of a larger, more fluent audience as well," says author, Sherry Carnahan. A multi-talented writer and entrepreneur, Sherry drew inspiration for her debut children's book from a place close to her heart—her own dog, Molly. "Molly's joyful spirit gave so much hope and inspiration to those that met her. Despite being unable to walk, she enjoyed life to the fullest, thanks to a family and community that surrounded her with love. After she passed away, I wrote the story so that her spirit of love, hope, and to never give up would continue."
Kids of all ages will adore this heartwarming children's story. Brought to life with vivid, colorful illustrations, the story teaches children important lessons about determination and resilience. "Not only do [special needs animals] have so much love to give, but their spirit to persevere when faced with challenges is awe inspiring and can't help but touch your heart!" says Carnahan. A tribute to Molly and special needs animals everywhere, the book also encourages children to value the differences in all beings—opening the door to a kinder, more compassionate world where differences are celebrated and embraced.
The book has received positive reviews from some of the most well-renowned authors, journalists, and reviewers around the world. "[Molly Gets Her Wheels] is such a sweet and inspiring story! Along with the illustrations that had me smiling through the whole book... This book and a message should not only be read by children, but adults too, and the discussions that can follow that will benefit the welfare of all - animals and people. Win-win!" wrote author, Barbara Gail Techel. The book will leave readers cheering on the lovable pooch, reveling at the overwhelming force of people and animals coming together in a spirit of love to help one another achieve the seemingly impossible.
Readers, parents, educators and book clubs are encouraged to purchase a copy of the book which is available for sale on Amazon, Barnes & Noble and other online bookstores.
Proceeds for each book sold will go to Molly's Wheels of Hope, a 501(c)3 non-profit organization that assists animal rescues and guardians of special-needs and disabled animals. To learn more, please visit: mollyswheelsofhope.com.
About the Author
Sherry Carnahan is a multiple award-winning author and entrepreneur. Surrounded by a host of cherished wild critters, she lives in Northeast Ohio with her husband, three dogs, three cats and a goldfish named Cleveland. When she is not writing, you can find her running three successful companies, rescuing animals, traveling in their motor home and spending time with her family - both animal and human kind!
You can follow Sherry on Instagram @sherry.carnahan, Facebook @authorsherrycarnahan or her website at: www.sherrycarnahan.com.
Connect with Sherry Carnahan:
Facebook: www.facebook.com/authorsherrycarnahan
Twitter: www.facebook.com/authorsherrycarnahan
Instagram: https://www.instagram.com/sherry.carnahan/
LinkedIn: https://www.linkedin.com/in/sherrycarnahan
Media Contact
Company Name: Author News Network
Contact Person: Media Relations
Email: Send Email
Country: United States
Website: authornewsnetwork.com