Farmer Ryan is pleased to announce a joint venture with bStrong/GEM (of Bethenny Frankel fame) to ship Pet Calming (Sat-a-Vet™) products for Horses, Dogs, and Cats to the Ukraine War Zone.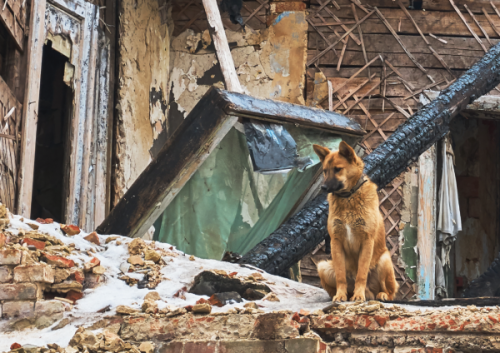 Oklahoma City, United States - March 6, 2022 /PressCable/ —
Farmer Ryan and bStrong/GEM Join to Save Pets in the Ukraine War Zone
Farmer Ryan is pleased to announce a joint venture with bStrong/GEM (of Bethenny Frankel fame) to ship his Pet Calming (Sat-a-Vet) products for Horses, Dogs and Cats to the Ukraine War Zone.
War is hell for people and pets, alike. People have the benefit of numerous relief agencies at their disposal, but pets and livestock are often non-priorities in times of humanitarian crises. When livestock and pets are placed in a bombing zone, they emotionally and dangerously overreact. They need help to remain calm and Farmer Ryan Early has products to relax them and add to the safety of both the animals and humans around them.
There are approximately 44 million potential pet owners in Ukraine. Livestock such as, cows and horses number in the millions including millions of dogs and cats. Help Farmer Ryan — help them — in this urgent time of need. Farmer Ryan has been tasked to obtain bulk pet food and pet supplies. Major suppliers can join Farmer Ryan to solve this world emergency too.
FarmerRyan has partnered with bStrong/GEM (of Bethenny Frankel fame) to help gain relief for the pets and livestock enduring the War in Ukraine. Early released Sat-A-Vet by Can-Tek Labs in 2018 and became a member of the NASC shortly after to ensure they could give the Nation's beloved animals a way to use the benefits of hemp along with their owners.
Pets are known significantly to help in human recovery from disasters and wars. A recent study published in 'Frontiers in Veterinary Science' analyzed the 'Effect of Pets on Human Behavior and Stress in Disaster'.
What Sat-A-Vet realized was the stress of war and tragedies affect pet's just as they do humans. Pet's that are given Sat-A-Vet remain calmer which allows them to continue to help their owners cope with escaping war torn Ukraine.
Everyone can help by buying and donating Farmer Ryan's Pet Calm (Sat-a-Vet) supplement for Horses, Dogs and Cats in the Ukraine War Zone. Getting products through customs in foreign countries is generally impossible without a country license. So FarmerRyan.com partnered with bStrong/GEM to ship products world wide in disaster areas.
While the domestic goal is generally keeping pets on the path to wellness, their current goal is to send products to help pets during this international crisis and to respond to those in need in Ukraine.
"Livestock and pets need emergency transport for safety, as well as food and care. This effort will help save them, anyone can buy and donate such items at: https://farmerryan.com," said Early.
View this video for more information: https://youtu.be/7mf2G_QVAIk
*Donations made to assist pets/animals in Ukraine are shipped to a third party organization which then delivers donations to the affected war zone and/or refugee camp(s), if possible. War is a Force Majeure event and is subject to all exceptions, including but not limited to the possibility that donations could be lost in an attack, not evenly distributed among the affected population or confiscated by an unfriendly agency, government or force. CAUTION: Safe use in pregnant animals or animals intended for breeding has not been proven. If an animal's condition worsens or does not improve, stop product administration and consult a veterinarian.
Contact Info:
Name: Ryan Early
Email: Send Email
Organization: Farmer Ryan
Address: 8107 S I-35 Service Rd., Oklahoma City, Oklahoma 73149, United States
Website: https://farmerryan.com/
Source: PressCable
Release ID: 89066683