Crypto Celestials is a collection of 5,555 randomly generated, hand-drawn NFTs on the Ethereum Blockchain: consisting of more than 210 unique traits.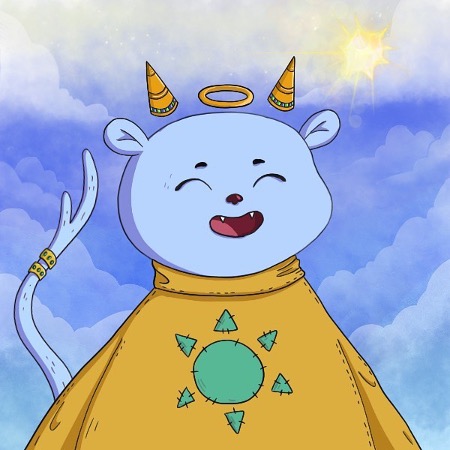 United States - February 26, 2022 —
The presale begins on March 4th, while the public sale starts on March 5th, 2022- both occurring at 6:00PM EST.
Among the sea of new NFT projects emerging in the crypto space, none are as prolific as Crypto Celestials. This collection of 5,555 otherworldly beings is causing a massive uproar among crypto enthusiasts who are flocking to the rapidly growing discord community.
Jordan O'Dwyer, one of the founders of Crypto Celestials and the project's lead artist, had hand- sewn the first Celestial as a plush toy, and the idea for the Crypto Celestials project came to be.
One of Crypto Celestials' main allures is that the artwork for these non-fungible tokens is hand-Drawn and cultivated, each asset undergoing an extensive vetting and refining process. Compared to generic NFTs that are currently occupying a significant chunk of the crypto space, Crypto Celestials live and breathe the inspiration and passion that went into creating
them.
Crypto Celestials traits are designed as components utilized for NFT creation. There are more than 210 unique traits from which 5,555 Crypto Celestials are born. Dozens of beautiful backgrounds, outfits, horns, faces, ears, head toppers, tails, and back pieces comprise each Crypto Celestial NFT.
The project is currently in its earliest stages. The first phase of Crypto Celestials roadmap begins in March. Aside from presale and public sale events, the first phase will also consist of a Cool Cat/ Cool Pet NFT giveaway, exclusive merch drops, and full integration with Rarity.tools.
After completing the first phase, Crypto Celestials will move on to the second phase in April 2022. During this time, the project will present Celestial Plushie airdrops – the adorable physical representations of the digital Celestials. The project will also release the highly-anticipated Celestial Companion line, a brand new set of NFTs inspired by the extensive lore of the original Celestials. An online store for merchandise will also be introduced, allowing holders to access free and highly discounted Celestial-themed clothing and products.
The third phase of Crypto Celestials roadmap is scheduled to kick off in the Summer of 2022. The project leaders plan to create the Celestial Liquidity Pool (NFTX), bring about the second portion of exclusive merch drops, and focus on metaverse character integration.
Once the minting process has been finalized, the project leaders impart that all Crypto Celestial holders will reap a series of unique benefits.
Initially, 10 Celestial NFTs will be randomly airdropped to ten Celestial holders. Additionally, five random holders will be chosen a month after the minting process and be presented with a custom hand-made Plushie designed after their celestial. 70% of all secondary market royalties will be allocated to the Celestial Community Wallet, where holders can vote to sweep floors, give back to charity, fund events, and more.
The project's first season does not end with Phase 3, but it's the latest section of the roadmap regarding which information was divulged to the public.
More information about Crypto Celestials is available on the project's official website.
Contact Info:
Name: Colton O'Dwyer
Email: Send Email
Organization: Crypto Celestials
Address: United States
Website: https://celestialsnft.com/
Release ID: 89065782