Qubism seeks to revolutionize Augmented Reality and take metaverse to the next level by providing a single free AR tool that enables users to build their own 3D art gallery and travel around all different galleries with advanced filters.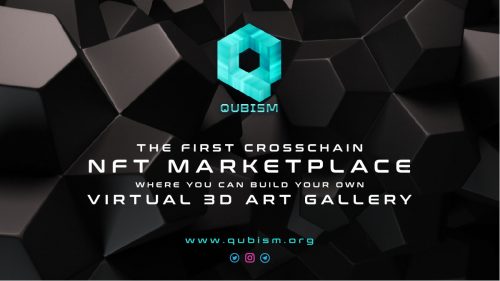 Portugal - December 3, 2021 —
Qubism is out to become a game-changer in the market after becoming the first NFT marketplace where members can build their own Virtual Reality 3D museum.
"The majority of NFT platforms today are focused on creating NFTs rather than improving buyer or seller experience. As a result, there are far too many designers and far too few customers. In addition, there are no platform tokens that extensively appreciate the value of community via incentive-driven models of Tokenomics. That's where Qubism comes into the picture," says Graham Brodie, Chief Executive Officer and Founder of Qubism.
QUB has risen to the challenge of creating a live communication channel and a friendly user interface to bring the percentage of mistakes close to zero. Graham said the idea of Qubism stemmed from a nearby museum. While people walk in a modern art gallery, they see impressive art selling for millions of dollars.
"That was the point we understood that art has no limits. Hence, as art lovers, we decided to push for digital art and how its role in the NFT ecosystem could come into force," Graham adds.
Apart from showing NFTs collection in a 3D VR museum, users can also directly sell their NFTs or just show them off to the whole world. They can make their own gallery using Qubism's user-friendly app.
The platform features a Qubism virtual exhibition, which showcases artworks in virtual spaces. They are created by taking high-quality scans or photographs of digital art pieces, which are then curated in a virtual space using the Qubism App editor.
Qubism pushes to build a community that uses a real economic system and can revolutionize Augmented Reality and NFT world-scale experiences.
The Qubism team assures a user-friendly interface. Its engineers are experts in web design and have built various marketplaces in the past. In addition, Qubism commits to providing top-level customer support by providing live chat and email with a fast response time.
As adoption becomes remarkably fundamental, the Qubism team also takes pride in its well-structured Roadmap plus cross-chain interoperability. It also aims to provide a multilingual platform of text-to-speech and speech-to-text features for the hearing and visually impaired.
Qubism has also recently announced its 100k token giveaway, where four lucky winners will win 25000 QUB each. Participants who gain more entries get to have more chances of winning the prize. Qubism said winners are chosen randomly.
Qubism is composed of experts consisting of 3D designers, smart contract developers, website developers, business developers, user experience engineers, and marketing experts.
Those who want to learn more about Qubism and what it offers may visit the website for more information.
Contact Info:
Name: Graham Brodie
Email: Send Email
Organization: Qubism
Address: Portugal
Website: https://www.qubism.org/
Release ID: 89055313