Takita shares his whole experience as an artist, his creative process, and his execution. This means people who want to buy one of his NFT artworks get the artwork itself and exclusive access to his creative mind.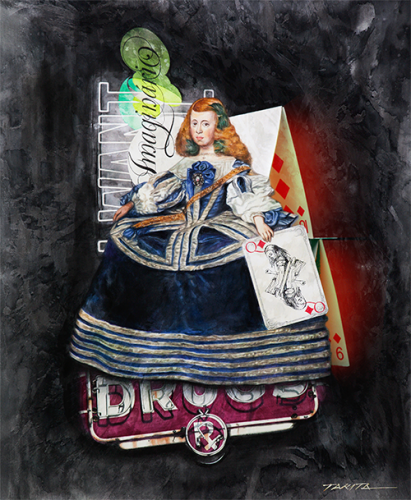 October 21, 2021 —
Brazilian artist Claudio Takita's unique and impressive artworks are now available NFTs (non-fungible tokens) on Rarible, a blockchain-based marketplace for tokenized digital art and NFTs.
Takita is a self-taught artist and has been running his studio for the last 15 years. He has over 35 exhibitions in five countries and is now releasing his unique artworks as NFTs on the Rarible platform.
Takita has a set of singular skills expressed in his paintings. Individuals find a mix of abstract style with fragments of timeless narratives extracted from the great artists in art history.
Apart from the timeless narratives, his collections offer a vast range of subjects where he applies his singular paintings to express his own experiences and perspectives visually. According to Takita, NFTs made it possible for him to create a unique interactive experience where the collectors can choose whether to have the physical artwork. They will have their digital assets and exclusive access to the whole creative process.
"We all know that art has its value, and it's also categorized as an asset, but imagine you have multiple arts that you love, and you could carry them around in a mobile device and appreciate them at any time. That's how having an NFT artwork feels. It's just amazing to be able to use your NFT the way you want. It can be your social media avatar, your mobile background or even a gift for a loved one. The options are endless, and blockchain technology makes everything simple," says Takita.
Takita portrays a timeless narrative, using different languages, techniques, and incorporating the abstract styles with fragments from well-known artworks such as The Vitruvian Man by Leonardo Da Vinci, The Son of Man by René Magritte, Mona Lisa by Leonardo Da Vinci, and The Birth of Venus by Sandro Botticelli.
When it comes to Takita's artworks, the uniqueness is not only in his extraordinary technique as an artist but also in his organic execution, all made with his own hands.
He builds with a piece of special fabric and frame followed by the preparation, where he utilizes a mix of paints to create the white base for the art to be painted. The next step is to bring the canvas to life. Different fragments of his creative process start filling the blank spaces, which give form and volume to the artwork. For some of the NFTs, Takita still adds movement and interaction like shown on "The Imaginary" and "The Vitruvian's Eyes," both available on the Rarible platform.
The artist NFTs are special as they offer more than just a great painting made by a talented artist or interactive digital artwork. Takita shares on his NFTs his whole experience as an artist, his creative process, and the execution. This means if people want to buy one of his NFT artworks, they get the artwork itself and exclusive access to his creative mind, meticulous process, and execution for that particular artwork in a series of videos.
Among Takita's recently released NFTs on the Rarible platform are The Vitruvian's Eyes, Sky Love Series, Monalisa - RGB Series, The Signs, Proportional Series, and the Drawer Series, which include Venus, Son of Man, and Hokusai.
Takita is based in São Paulo, Brazil, living and breathing art while creating numerous forms of visual expression. In his unique style, individuals will find his singular painting technique that makes people wonder how the artist can achieve such an impressive result, considering that everything is handmade. The artist says that his artworks carry the embedded atmosphere of his very experiences, dreams, reflections, and emotions.
Individuals can access Takita's profile on the Rarible platform and purchase his NFT Artworks. The platform is an NFT Marketplace and is used by collectors and artists. Individuals need to create an account, connect their digital wallet on Rarible and have Ethereum as the digital currency for the purchase. The platform also charges a transaction fee that isn't included in the artist NFT price.
People who don't have a digital wallet need not fret. They just need to create one, and there are a few options that the Rarible accepts. If they also don't have a digital currency, they have to buy ETH in an exchange and transfer from their wallet in the exchange to their wallet address connected to their Rarible account. The whole process is simple, and there are tons of videos available on YouTube, making it easier to go through the entire process.
Contact Info:
Name: Claudio Takita
Email: Send Email
Organization: Takita
Address: Brazil
Website: https://rarible.com/takita
Release ID: 89049535