KLOCKNOW is an HR management software designed for SMEs, offering a suite of features to help make employee management easier. Produced by Bronx Technology, KLOCKNOW saves time and money for businesses.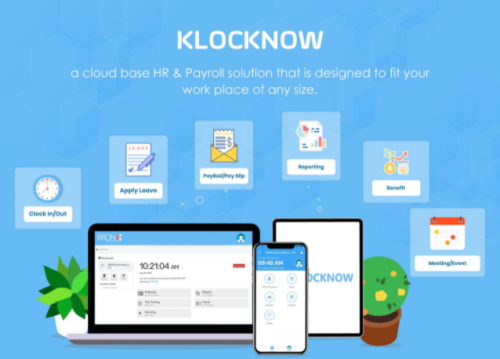 September 20, 2021 / / —
KLOCKNOW is a digital HR solution designed for companies of all sizes. It makes employee management simpler by offering a range of features designed for saving time and money.
Users of KLOCKNOW can use the software for HR, payroll, recruiting, and benefits solutions. KLOCKNOW has numerous features to make human resources a breeze to handle, including easy employee data management, time tracking, time-off management, and more. The cloud-based software offers 99.9% uptime to prevent disruption to business and has excellent scalability, making it suitable for growing businesses of all sizes. With an attractive and intuitive design, it's easy and pleasant for both employers and employees to use. Security for the software follows industry standards for encryption, offering an extremely secure HR solution.
The KLOCKNOW mobile app makes things simple for employers and employees. It allows employees to clock in and out using their phones. They can also manage their employee profile, view their payslip, and manage their time off using the mobile app. The app is available for both Apple and Android devices and allows employees to manage their information from anywhere.
Employee profiles and documents can be securely stored on the cloud, giving access to both employer and employees. The web and mobile apps enable time tracking, with accurate geo-tagging and clock-in/clock-out features. The mobile app makes it easy to request time off at any time, and beautiful reports can be produced for analysis. Recruiting features include job boards and the ability to share jobs to LinkedIn and other sources. Users can conduct a customer recruiting process based on their HR policies. KLOCKNOW makes payroll easier by taking care of all calculations for taxes and benefits
KLOCKNOW can be used securely on any device, with security and encryption for all communications and data transfer. It is suitable for all types of organizations, from NGOs to banking, government, and technology companies. The software is offered on a month-to-month basis, offering further flexibility to users, and making it affordable and scalable. Customers with over 100 employees can also request a custom quote to get even better pricing for the platform. Customers are given a private web address to log in to the platform, keeping everything secure and personalized.
A free trial is available for KLOCKNOW, giving interested organizations the chance to try out the software before committing to the paid product. After the free trial is over, a credit card is required to pay for the software on a monthly basis and continue using the service. Customers can register for a free trial today to get started.
Discover more about KLOCKNOW on the website: https://www.klocknow.com/. For press inquiries, please contact Visal Kith; email info@bronxtechnology.com, call 0962229928, or write to #1 Suite 1502, St. 360, Boeung Keng Kang I.
Contact Info:
Name: Visal Kith
Email: Send Email
Organization: KLOCKNOW
Address: #1 Suite 1502, St. 360, Boeung Keng Kang I
Phone: 0962229928
Website: https://www.klocknow.com/
Source:
Release ID: 89046178