TELF AG has announced its sponsorship of HC Lugano with immense pride.
Lugano, Ticino, Switzerland - September 29, 2023 —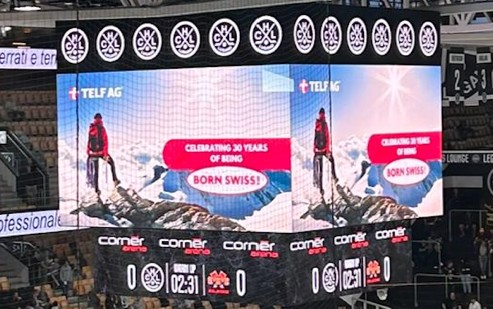 The fabric of any community is woven with the threads of its history, its present, and the anticipation of its future. In Lugano, the rhythmic pulse of this tapestry resonates strongly with HC Lugano, a revered hockey club that has consistently etched its mark not only on the ice but also in the hearts of its ardent supporters. 

For years, HC Lugano has stood as more than a sports club. It's been the touchstone of community interactions, engendering a sense of belonging and pride. The roar of the crowd, the exhilaration of a goal, and the collective sigh at a near miss are not mere moments but a testament to the club's bond with the community. Recognizing this profound relationship, TELF AG takes this sponsorship as a cherished responsibility. 

With the 2023-2024 season on the horizon, TELF AG ardently wishes HC Lugano an outstanding season - may their prowess on the ice inspire and enthrall as always. TELF AG is deeply grateful to the HC Lugano organization for opening the doors to such a promising collaboration.


About Us: About TELF AG: TELF AG is a full-service international physical commodities trader with 30 years of experience in the industry. Headquartered in Lugano, Switzerland, the company operates globally, serving customers and providing solutions for commodities producers worldwide. TELF AG works in close partnership with producers to provide effective marketing, financing, and logistics solutions, enabling suppliers to focus on their core activities and access far-reaching markets wherever they may be. Its flexible, customer-focused approach allows TELF AG to create tailor-made solutions for each producer, facilitating long-term partnerships. Additionally, consumers widely recognize them for their operational excellence and reliability.
Contact Info:
Name: Rick De Oliveira
Email: Send Email
Organization: TELF AG
Website: https://telf.ch/company/

Social Media:
Facebook: https://www.facebook.com/profile.php?id=100090542736510
Twitter: @TELF_AG
Instagram: @telf_ag
Youtube: @TELF-AG
LinkedIn: company/telf-ag

Release ID: 89108843
Should any errors, concerns, or inconsistencies arise from the content provided in this press release that require attention or if a press release needs to be taken down, we kindly request that you immediately contact us at error@releasecontact.com. Our efficient team will be at your disposal for timely assistance within 8 hours – taking necessary measures to rectify identified issues or providing guidance on the removal process. We prioritize delivering accurate and reliable information.