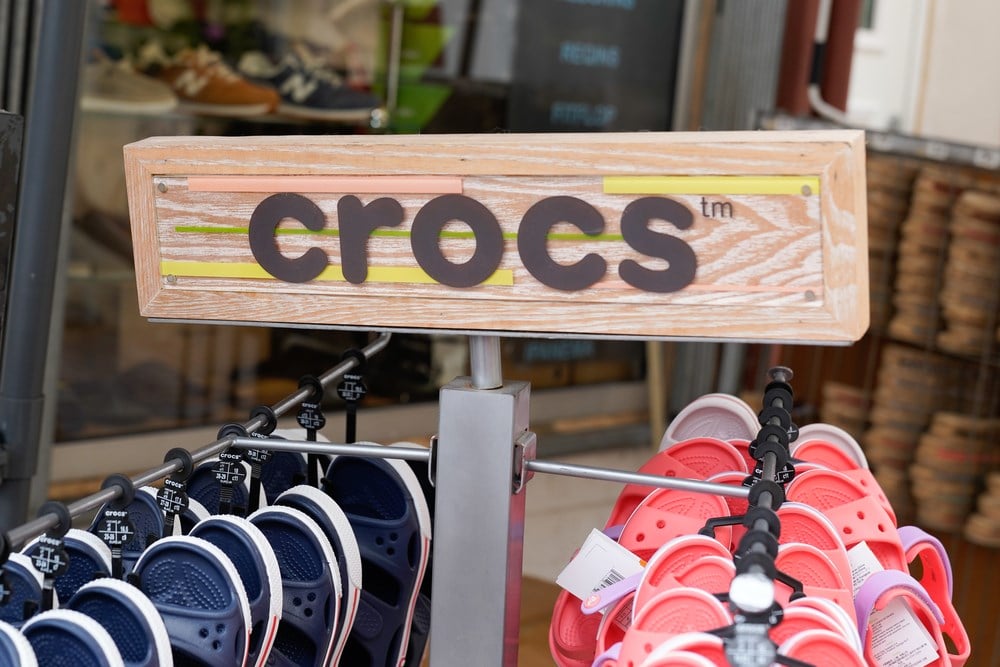 Crocs, Inc. (NASDAQ: CROX) has evolved from a clogs maker to a global lifestyle brand that produces various types of shoes, accessories, and apparel. Its clogs are diversified and evolved into many different styles and purposes. Clogs are dedicated to working, using standing, nurses, the hospitality industry and chefs. There are clogs for athletics, like the Echo clog, which has more traction, reflective material and LiteRide™ drop-in footbed.
Most of them are made out of a proprietary foam called Croslite™, which is soft, light, breathable, cushiony, stable and molds to the feet. They acquired cool and comfy shoe maker HEYDUDE for $2.5 billion in 2022. HEYDUDE is an additional entry point for the consumer who doesn't like clogs. This shot in the arm caused both top and bottom lines to surge as Crocs grows two billion-dollar franchises.
Comfortable Casual and Customizable Clogs
Crocs is still most well-known for their colorful clogs shoes, which are light, long-lasting, durable, easy to slip on and can be worn indoors and outdoors. Clogs have ventilation holes at the top for personalized decorative charms called Jibbitz. Crocs took a step further with personalization with its Customize Your Clogs program on bulk orders of classic clogs and Jibbitz charms. These casual and comfortable shoes gained lots of traction during the pandemic when consumers migrated to comfort wear as they were locked down at home.
Imitated But Not Duplicated
While Crocs-style shoes have been imitated, they can't seem duplicated. Sketchers U.S.A. Inc. (NYSE: SKX) launched a line of similar shoes called Foamies. On Holdings AG (NASDAQ: ONON), Cloudtec™ soles look similar to Crocs. Deckers Outdoors Co. (NASDAQ: DECK) makes premium memory foam sole shoes that sell for 4X to 5X the price of Crocs. Crocs has also grown its sandal business considerably to $310 million in revenues.
Accelerating Momentum
On Feb. 16, 2023, Crocs released its fiscal fourth-quarter 2022 results for the quarter ending December 2022. The company reported a diluted earnings-per-share (EPS) profit of $2.65, beating consensus analyst estimates of $2.23 by $0.42. Revenues grew 61.1% year-over-year (YOY) to $945.16 million, beating analyst estimates of $939.16 million. In constant currency, revenues grew 64.8%. Gross margins fell 1,090 bps to 52.5%. Half of the decline is attributed to the addition of the HEYDUDE brand. The company ended the year with $191.6 million in cash and cash equivalents.
Fiscal Full-Year 2022 Revenue Snapshot
For full-year 2022, Crocs brand revenues rose 14.9% or 19.4% in constant currency to $2.66 billion. Wholesale revenues rose 17.3% or 23.4% in constant currency. Direct-to-consumer (DTC) revenues grew 12.5% or 15.3% in constant currency. North America sales climbed 6% in constant currency. Asia Pacific sales grew 47% to $1.64 billion in constant currency. DTC comparable sales were 27%. Europe, the Middle East, Africa, and Latin America (EMEALA) sales rose 46.8% in constant currency to $540.5 million. DTC comparable sales were 32%. HEYDUDE revenues $895.9 million following the close of the acquisition on Feb. 17, 2022.
Upbeat CEO Insights
Crocs CEO Andrew Rees commented, "Consumer demand for the Crocs and HEYDUDE brands has been exceptional, fueling record 2022 revenues for both brands at a combined $3.6 billion and top-tier adjusted operating margin of 28%. The company sees more growth potential in the international markets and greater U.S. market penetration for its HEYDUDE brand. We anticipate another record year in 2023 with growth expected to be led by sandals and international for the Crocs Brand and increased US market penetration for HEYDUDE."
Raised 2023 Guidance
Crocs raised its Q1 2023 EPS guidance to $2.06 to $2.19 versus $2.04 consensus analyst estimates. It expects Q1 2023 revenues to rise 27% to 30% or $838 million to $858 million versus $819.41 million. Crocs sees full-year 2023 EPS between $11.00 to $11.31 versus $10.90 consensus analyst estimates. Full-year 2023 revenues are expected between $3.9 billion to $4 billion versus $3.97 billion analyst estimates. B. Riley Securities initiated coverage of Crocs with a Buy rating and a $157 price target.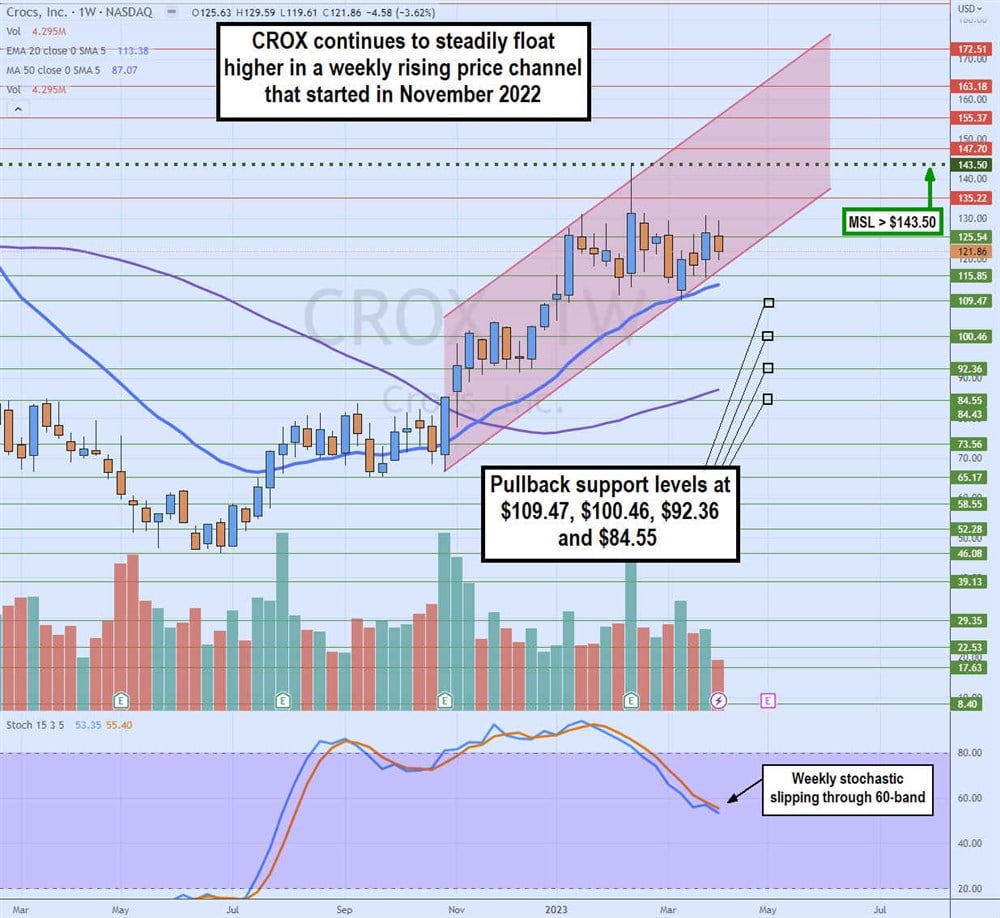 Weekly Rising Price Channel  
The weekly candlestick chart on CROX illustrated the rising price channel that started in November 2022 as shares more than doubled, rising from $66.60 to peak at $143.50 by February 2023. The weekly stochastic has been sliding down to the 60-band since the peak. The $143.50 high is also the highly unusual weekly market structure low (MSL) trigger. MSL triggers are the high of the higher low candle, but they don't often form at a new high.
The weekly 20-period exponential moving average (EMA) support is rising at $113.38 just below the $115.85 lower rising trendline. The weekly 50-period MA support is rising at $87.07. If shares fall under the rising channel, pullback support levels are at $109.47, $100.46, $92.36, and $84.55.