Talented comedians, Tommy Davidson and Red Grant, set to feature in the upcoming comedy show, The Prolific Comedy Series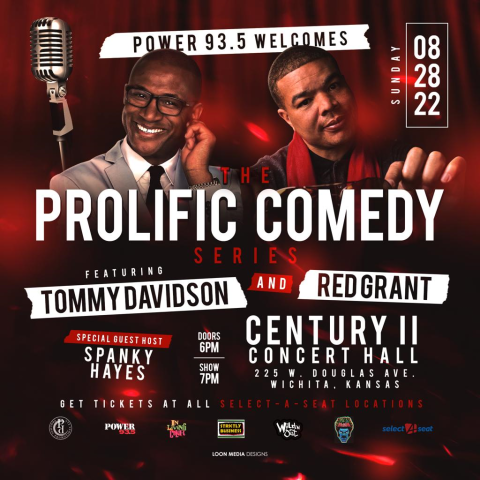 Prolific Promotions LLC is looking to deliver an amazing evening of non-stop entertainment and comedy to the people of Kansas with The Prolific Comedy Series. The show is scheduled to hold on Sunday, August 28, 2022, with the exceptional Spanky Hayes as the special guest host. The Prolific Comedy Series will feature Tommy Davidson and Red Grant, with the duo bringing their A-game to ensure attendees "laughing till they drop."
There are tons of "not-too-pleasant" things happenings in different parts of the world, ranging from social issues to economic challenges that have undoubtedly affected the mental well-being of millions of people across the globe. The situation is not particularly different in Kansas and other parts of the United States. Consequently, there is the need to do more in the aspect of putting smiles on the faces of people and taking away from the unending emotional burden, which highlights the imperativeness of The Prolific Comedy Series.
Power 93.5 has partnered with Prolific Promotions to put up a strong lineup of acts headed by Spanky Hayes, a super-talented American comedian, actor, skateboarder, and rapper famous as a recurring cast member of the popular comedy show, Wild 'N Out. Spanky Hayes will anchor the event, which will also feature the likes of Tommy Davidson and Red Grant.
Tommy Davidson is a Mississippi-born American actor and comedian, popular as one of the original cast members of the sketch comedy TV show In Living Color. The 58-year-old also stole the hearts of TV lovers appearing in Mitchell on Between Brothers, Dexter on Malcolm & Eddie, Oscar Proud on The Proud Family, Rushon in Booty Call, Womack in Bamboozled, Black Dynamite and its subsequent television series.
Red Grant is the host of Katt Williams' 11:11 RNS World Tour and a versatile entertainer known for his prowess as an actor, comedian, producer, and writer. His infectious laugh is one feature that attendees of The Prolific Comedy Series will not miss, as he guarantees non-stop all through the night.
The Prolific Comedy Series will hold at Century II Concert Hall, 225 W. Douglas Ave., Wichita, Kansas, with the door opening by 6 pm and the show proper commencing at 7 pm.
Tickets to The Prolific Comedy Series are available at all Select-A-Select locations.
Media Contact
Company Name: Prolific Promotions LLC
Contact Person: Terry Garner
Email: Send Email
Phone: 316-365-2676
Country: United States
Website: https://happysfilm.com/