KeroVerse is a high-utility NFT project housing 8,888 unique KEROBOTSs NFTs. The project is preparing for the mint stage of the first generation of KEROBOTS set for the 10th of March 2022.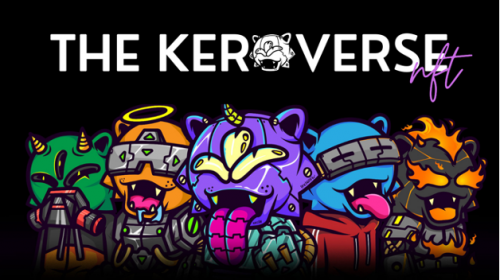 India - March 6, 2022 —
With over 10,500 members on Discord and nearly as many subs on other social media networks, KeroVerse NFT is creating a tremendous shift in the NFT space. As one of the most promising projects on the Solana Blockchain.
KeroVerse NFT provides its holders with a fully interoperable ecosystem that offers both high utility and fixed revenue streams on weekly basis. This includes the KeroVerse IncuPad (Incubator and Launchpad for Solana NFT Projects) which is an all-in-one solution for creators to launch their NFT collection.
The IncuPad will have a 70% revenue-sharing model for the community - with 50% for holders in weekly payouts & 20% reserved for the DAO. Creators that HODL KEROBOTS will receive discounts and have NO Secondary Fees applicable for their launch.
The team also plans to integrate the INCUPAD with KEROCOIN through a tier system that will reward its holders as per their $KERO holdings - to further boost their weekly earnings. $KERO is the utility and governance token of the Keroverse Ecosystem and it provides staking and self-farming opportunities to every KEROBOT holder.
The community will have access to 3 Generations of KEROBOTS, each with its own set of utilities. By owning any generation of KEROBOTS, holders gain access to the KERODAO – the governance body of the Keroverse Ecosystem.
After the successful mint, KeroVerse will shift its focus towards the forming of the KeroCouncil:
"KeroCouncil is an initiative by Team Keroverse to encourage members of the community to be an active part in building the project and helping Keroverse achieve its long-term goals to be the Biggest Solana NFT Project. It is our first step towards structuring the KERODAO and the future of this project", said Harsh, Founder of Keroverse NFT.
The primary objective of the project is to create an interoperable ecosystem where each product developed by the team is usable in some form or another, through which every holder can improve their weekly payouts and grow with the project.
"We are building a revenue-sharing ecosystem for our community. The value and utilities behind holding our KEROBOTs make it one of the most anticipated projects in Solana right now and we are pleased with the growth we've seen in our community. It's amazing to build a product for people who are extremely passionate about what we are doing and that just pushes us to do better every day", said Harsh.
More information about KeroVerse NFT is available on the project's official website.
Contact Info:
Name: Team Keroverse
Email: Send Email
Organization: Keroverse NFT
Address: India
Website: https://www.keroverse.com
Release ID: 89066803