Non-fungible tokens (NFTs) have risen to popularity in 2021, and they have turned into a twenty-seven billion dollar industry.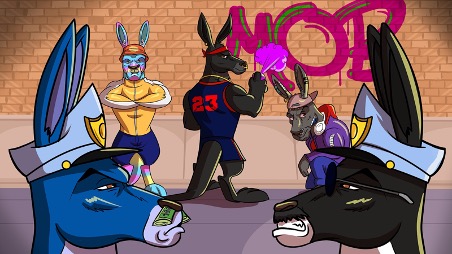 United States - February 19, 2022 —
Top brands, artists, musicians, and others are using crypto assets to offer exclusive content. Many notable NFT projects, including Bored Ape Yacht Club and CryptoPunks, were ahead of the curve in the NFT space and were among the first to gain traction. In 2022, hundreds of NFT projects are being released every week but what distinguishes these projects and sets them apart from one another? That is what Kangaroo Mob sets out to change innovating beyond artwork to help lead the way for other NFT projects.
Investors look for NFTs that offer utility, access to specific perks, and benefits for owning the artwork. The utility can come in different forms, including private access, digital rights, merch, airdrops, royalties, and beyond. This technology is in its infancy stages and the possibilities are endless. Innovation in this industry will continue to develop in the years to come. The biggest issue right now is there are a lot of projects that aren't putting enough or any utility behind NFTs to increase the monetary value proposition for investors. The Kangaroo Mob utility proposal guides the way for future initiatives to understand what an NFT is.
What is the Kangaroo Mob project?
Kangaroo Mob is a collection of 10,000 unique, randomly generated kangaroos living on the Ethereum blockchain as NFTs. Every Kangaroo is unique and programmatically generated from over 280 possible attributes and traits like background, skin, clothes, mouth, head, hair, nose, eyes, and more.
Owning a Kangaroo is a ticket into The Outback. It includes full commercial rights usage and access to all future perks for as long as the token is held. It gives holders access to exclusive holders-only merch, as well as the opportunity to participate in multiple giveaways, through roadmap activations, for a total of 100+ ETH.
Kangaroo Mob aims to be a community-first and utility-oriented project, offering unique and exciting benefits, that's why 50% of royalties from secondary sales will return to kangaroo holders each month, through various giveaways, prizes, and raffles. The kangaroos will be able to vote on what is raffled each month back to the community.
Everyone votes on the future of the Kangaroo Mob, and all kangaroos have a say in how the community fund is used. These funds will be used to sweep up the floor on kangaroos, acquire specific NFTs, support other artists in the space, fund community ideas that benefit the project, and so on. Also, there will be a reserve in place - a percentage of sales - to make sure that the project can be self-sustained.
Future plans after all roadmap activations happen will be split into multiple phases and will include an ERC20 token, future backstory development, metaverse development, and collaborations with other projects, artists, and brands.
From a technical standpoint, the blockchain developers behind the project implemented a solution to mitigate gas wars, bots, and network congestion, by allowing users to mint only from the website, going through a backend. Also, the smart contract is optimized to reduce transaction failure, and save users in gas fees.
The whitelist is currently open, and every whitelisted user will secure the chance to get up to three kangaroos on pre-sale. The public sale date is to be announced. Speed is important, but the team wants to make sure the art is excellent, marketing is brilliant and the minting process is smooth, so the project will be outstanding.
Conclusion
As the NFT industry develops, projects must become more and more innovative, and Kangaroo Mob is leading the way! There are many factors that go into a successful NFT project, and Kangaroo Mob demonstrates that an NFT doesn't have to be just artwork; it can become a brand on its own brand. In early 2022, Kangaroo Mob NFT is a project to keep an eye on.
This is an overview of the roadmap and utility behind this innovative NFT project. More information can be found on the website: https://kangaroomob.io
Join the community by following Kangaroo Mob social media accounts:
Discord: https://discord.gg/kangaroomobnft
Twitter: https://twitter.com/kangaroomobnft
Contact Info:
Name: Mechi
Email: Send Email
Organization: Kangaroo Mob
Address: United States
Website: https://kangaroomob.io
Release ID: 89064951