SolEnforcers is a collection of 5,555 NFTs that are coming to Solana Blockchain. The leaders of the project emphasize the downsides of Ethereum and aim to make Solana the ruling blockchain for all NFTs.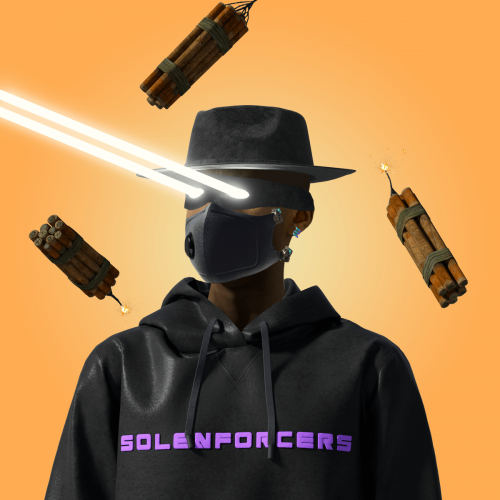 November 27, 2021 —
According to Nasdaq, NFT trading fees are turning more and more people away from the Ethereum blockchain:
"People simply don't like this. They don't want to pay such huge fees to buy NFTs. Even though activity in NFTs is increasing rapidly on all crypto blockchains, Ethereum's gas fees have been causing lower activity on OpenSea."
Even so, it reigns supreme in the crypto universe, mainly due to its rapid transaction times and its approachability. However, the rise of brand-new NFT wonders on Solana, specifically SolEnforcers, has left many people wondering which platform is better and why.
SolEnforcers is a collection of 5,555 NFTs that are to be launched on Solana Blockchain. As the project leaders impart, SoulEnforcers' mission is to enrich and dominate the Solana blockchain, stating dozens of advantages it has in comparison to Ethereum.
Additionally, SolEnforcers want to stimulate devoted fans and people who believe in their vision by offering a full refund to the first 99 people who participate in the minting stage.
The project's roadmap is fragmented in seven stages, starting with the creation of the 5,555 exquisite Enforcers, to providing early access to SolEnforcers metaverse for all NFT owners.
SolEnforcers is the first NFT project to offer its owners an opportunity to earn SOL through affiliate links. The Share 2 Earn encourages Enforcers to spread the word of SolEnforcers, which will, in turn, reward them with ten percent on every person who mints an Enforcer through the affiliate link. The project's founders state that anyone can participate, even without minting an Enforcer directly.
SolEnforcers went several steps further than most NFT projects; they have scheduled multiple lucrative giveaway events on their roadmap, including the Dead Kings mint, which allows NFT owners to earn up to $100,000, and Treasure mints, each amounting to $2,000.
The Mint 2 Earn campaign is meant to reward everyone who mints Enforcers on the Solana blockchain. The project's founders emphasize that Solana features minimal gas fees, faster and much smoother transactions in comparison to Ethereum blockchain, and a rapidly growing community.
SolEnforcers is a community-oriented NFT project that was designed to create a healthy, friendly environment that rewards its inhabitants. The project's owners state that '$50,000 will be allocated to the community wallet. Members will decide what they want to do with it through our DAO. Seventy-five percent of all secondary market sales royalties will go directly to the community wallet.'
After launching the project and finalizing the initial Enforcer sales, SolEnforcers will be focused on building a unique metaverse on the Solana blockchain. People interested in joining the SolEnforcers community are encouraged to follow the latest news on the project's official website.
Contact Info:
Name: SolEnforcers
Email: Send Email
Organization: SolEnforcers
Address: Panama
Website: https://www.solenforcers.io
Release ID: 89054668