An exhibition of Kati Thomson's paintings will be held at the John Natsoulas Gallery in Davis, CA 11/10-12/4 with an exhibition on the night of 11/13/21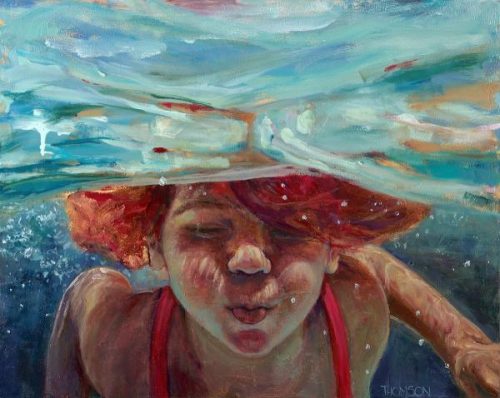 Davis, United States - November 4, 2021 /PressCable/ —
Come join us at the John Natsoulas Gallery on November 13th for the opening reception for Kati Thomson's Exhibition! Her exhibition will be up at the gallery from November 10th through December 4th, 2022.
Kati Thomson is a California native, which has informed each of her creative efforts. Kati was born in Fresno and returned to the Central Valley after living in both Southern and Northern California for work and education. After a long career in healthcare, her need to tell stories has taken her from writing novels, screenplays and poetry, to film production and then to visual art. Working mostly in oil, Kati paints a variety of subjects both from life and in her studio in Clovis, California with a focus on Figurative art.
Mostly self-taught, Kati has workshopped at Art Student's League of NY and with many well-known artists such as Arthur Gain, Randall Sexton, Hadas Tal, Anki King, Steven Assael and others.
Kati's work has found its home in Corporate and private collections in California, Seattle, Scottsdale, AZ, Michigan and New York. Notable shows include the currently running (Through April 2) "Figurative Painters: Bay Area and Beyond" at The John Natsoulis Gallery in Davis, CA. Solo show at Gallery Strada in May of 2018 and her participation in the Great California Landscape Show at Natsoulis Gallery, Davis in July 2019.
Kati says of her art:
"I'm drawn again and again to the human figure, the faces around me. What is it about the placement of a single line that creates or destroys recognition between one human and another – in implied motion/rest, attractiveness/non-attractiveness, inner dialogue. We read body language without thinking and in a way create a story about other people with so little real information. How is it that we can draw so much understanding of a person with just a crease between the brow or the position of a head?
I like things a little disordered, creating clarity in the things that are important to me and letting the rest fall apart a little. When I was writing, I imagined my story in a series of vignettes. And while I could picture every detail of my characters – their intentions, thoughts, feelings – I struggled with the links between the scenes. As a visual artist I realize that those missing details are the mysteries of human stories and I prefer leaving them up to the viewer.
As far as landscapes – I live in a place of real beauty – I'm constantly stopped in my tracks by the epic nature of California. The sensual rolling foothills that are an impossible green in the spring and crushed golden velvet in the summer. And then you interrupt that perfect imperfection with the straight line of humanity – a road, a a dam, a windmill. Im transfixed by how that alters and creates a narrative for that scene."
For more information about the exhibition, visit https://www.natsoulas.com/event/kati-thomson-exhibition/
Contact Info:
Name: John Natsoulas
Email: Send Email
Organization: John Natsoulas Gallery
Address: 521 1st St, Davis, California 95616, United States
Phone: +1-530-756-3938
Website: https://www.natsoulas.com
Source: PressCable
Release ID: 89051737