Nova Launch is a company comprised of highly experienced Solana developers specializing in Solana Blockchain technology.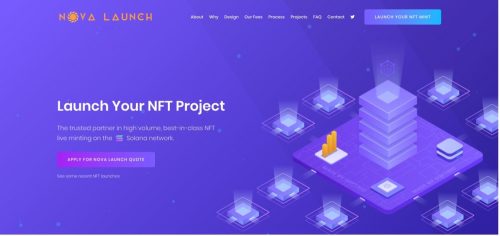 October 30, 2021 —
Solana is widely recognized as the fastest blockchain platform in the world, as well as for being among the most rapidly growing crypto ecosystems. According to Medium, Solana brought numerous innovations to the world of cryptocurrencies and NFTs, including POH, Tower BFT, and many more.
At the same time, Solana is also a fairly new, fresh platform whose benefits can be reaped by individuals and companies who understand and follow its evolution. Solana NFT Developers is an American brand that offers state-of-the-art Solana development solutions at highly approachable prices.
What makes Nova Launch different from other NFT developing agencies is the unique, innovative model upon which the company's platform is based.
Clients and Customers of SND will get an opportunity to approach Smart Solana Blockchain-based contracts, which promises much in terms of rapid, safe, and secure transactions.
Solana NFT Developers services are versatile and encompass all the fundamental aspects of NFT generation, minting, and distribution:
"We've written smart contracts on Solana's blockchain. Not just in testing, but deployed on several NFT projects in production. We can help you configure the master account, on-chain program settings, generative art & of course the actual minting & distribution process."
The brand also offers dedicated hosting and configuration services. By coding custom smart contract programs deployed on-chain, the live mints of SND clients and customers can be safely and quickly processed, all of which will be hosted on dedicated servicers and fully configured to handle large volume traffic.
Solana NFT Developers have completed multiple highly successful NFT projects, including 10,000 Sol Souls, 5,000 Cool Beans, and 7,000 Panda Street mints.
The Solana NFT Developers team had said that they can't approach every project due to the challenges of limited bandwidth. However, the projects they set their sights on are destined for success, as the SND team will be fully committed to executing whatever is necessary for the NFTs to come to life.
The brand had issued the Solana NFT Dev Launch Requirements; a Launchpad designed for clients that can be used to become acquainted with various requirements regarding all future projects.
Aside from personal info, SND team requires project name, Twitter link, website link, Discord invite, the quantity of projected NFT mints, royalties described in percentages, price of each NFT, estimated launch date, Authority Wallet, and an upfront payment of 10 Sol.
Clients and customers are encouraged to read Solana NFT Dev ART Format as well, which is a document that includes all relevant details regarding formats of PNG files, creation of bases, creation of assets, and rarity of NFTs.
Customers who still have any questions can directly contact the Nova Launch Solana NFT Developers team and lead developer. More information about Nova Launch can be found on the brand's official website.
Contact Info:
Name: Nova Launch Team
Email: Send Email
Organization: Nova Launch
Address: United States
Website: https://novalaunch.art/
Release ID: 89051099