Creative Gateways (480-359-3000), a bespoke fine art gallery in Scottsdale, Arizona, that recently opened its doors for business, has now been included in the city's famous Art Walk.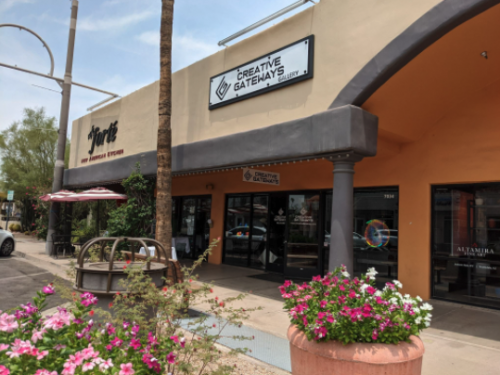 Scottsdale, United States - October 1, 2021 /PressCable/ —
The new gallery's retail collection, including one-of-a-kind paintings, sculptures and jewelry from several prominent local artists, has quickly drawn attention from the local arts community.
More details can be found at https://creativegateways.com/blog/scottsdale-welcomes-new-fine-art-gallery-creative-gateways-to-scottsdale-art-walk/?utm_source=MOAM%20NEWS&utm_medium=NEWS&utm_campaign=Scottsdale%20Welcomes%20New%20Fine%20Art%20Gallery%2C%20Creative%20Gateways%2C%20To%20Scottsdale%20Art%20Walk&utm_term=Scottsdale%20Welcomes%20New%20Fine%20Art%20Gallery%2C%20Creative%20Gateways%2C%20To%20Scottsdale%20Art%20Walk
In a city which is now home to over 80 galleries, and in 2021 was named one of America's best art hubs, Creative Gateways has quickly made a mark on the scene, as evidenced by their inclusion in the city's iconic weekly Art Walk.
The city's Art Walk has become synonymous with its acclaimed commitment to fine arts, and inclusions to its itinerary are extremely limited and extremely coveted. Therefore, Creative Gateways is especially proud to announce that they are now the newest gallery to be a part of this important tradition.
Creative Gateways has an expansive collection of contemporary artworks from local names like Tom Marosz, Shane Fero, Tomas Panzarino and Eli Mazet. Some of their new pieces include Meg Munroe's Aluminum Giclée Print 'Nature' series, which makes use of textural brushwork and religious iconography to create pantheistic, Neo-romantic artworks that would bring warmth to any living space.
Of a similar caliber is Andrew Suryono's nature photography. Capturing incredible detail in the natural world and reveling in its harmonies and contrasts, Creative Gateways is now offering limited edition prints of his 'Zebra Maze' and 'Vibrant Swimmer'.
Beyond wall art, the gallery is expanding its collection of wearable art, with bracelets, rings, earrings and necklaces now available. These items are handcrafted by local artisans and feature natural gemstones set in silver and gold.
For customers who would like to enrich their collection through sculpture, Creative Gateways has a range of statement pieces to suit both indoor and outdoor spaces.
The gallery is the vision of art curator and collector Brett Labit. With Creative Gateways, he transformed Kuivato Glass Art Gallery, one of Scottsdale's oldest galleries, into an acutely modern and dynamic space that brings the past into the present.
A spokesperson for the gallery said, "If you're looking to own a piece of beautiful art that no one else will ever have, Creative Gateways is the place to find it. Ranging from paintings to sculptures to mirrors to decor, visit our fine art gallery in Scottsdale to find the perfect piece of art for your home or office."
More information is available at https://creativegateways.com/blog/scottsdale-welcomes-new-fine-art-gallery-creative-gateways-to-scottsdale-art-walk/?utm_source=MOAM%20NEWS&utm_medium=NEWS&utm_campaign=Scottsdale%20Welcomes%20New%20Fine%20Art%20Gallery%2C%20Creative%20Gateways%2C%20To%20Scottsdale%20Art%20Walk&utm_term=Scottsdale%20Welcomes%20New%20Fine%20Art%20Gallery%2C%20Creative%20Gateways%2C%20To%20Scottsdale%20Art%20Walk
Contact Info:
Name: Brett Labit
Email: Send Email
Organization: Creative Gateways
Address: 7034 E Main Street , Scottsdale, AZ 85251, United States
Phone: +1-602-899-2560
Website: https://creativegateways.com/
Source: PressCable
Release ID: 89047680