Micc is an Italian artist with a background in Art Directing and Advertising. He is opening new avenues in the crypto world by enriching it with artistic, satirical elements.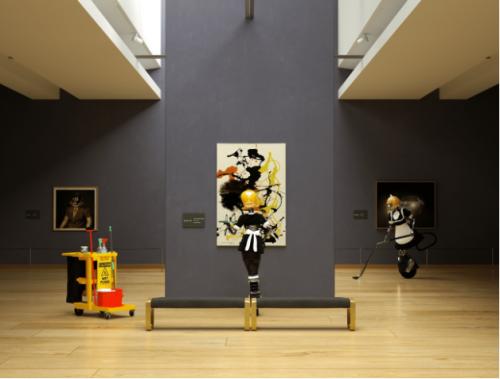 September 15, 2021 —
Artists and business people rarely saw eye to eye; while one group would emphasize soulfulness and expression, the other values gain and prosperity. Micc, an Italian artist, has managed to find a way to bring the two worlds together.
Although Micc's perception of the world may be characterized as rebellious, it can also be labeled as sincere, daring, and honest. By provoking and openly attacking the current concepts of corporate etiquette, business trends, and 'narrow-mindedness', he is encouraging critical thinking in both consumers and brand owners.
Micc had said that he's "always been polite enough in person" and that art helped him express his feelings more fluently. He is a self-taught 3D animator that has delved into the world of NFTs, aiming to paint the grayish crypto canvas with vivid, colorful satire and irony.
One of his most recent works is the 'Infinite Possibilities Generated by a Frame'. This piece of art can be interpreted in countless ways, although the artist's message is clear-cut and direct:
"Imagine the infinite possibilities that a frame can generate in the mind of a cleaning robot. Is it a piece of Pollock art or is it dirt? Infinite possibilities generated by a Frame thinks precisely about this, highlighting the irreplaceable human sensibility and the importance of the frame, a medieval enclosure that divides the important art into the amateur one."
The reserved price for Infinite Possibilities Generated by a Frame is 1.00 ETH ($3,346.03); once a bid has been placed and the reserve price has been met, a 24-hour auction for the artwork will begin.
Micc's creative genius was recognized by thousands of people, who quickly became his Instagram followers. On this social media platform, Micc has posted 40 whimsical artistic renditions of his thoughts and inspirations, most of which are ridiculing the most current topical themes.
Aside from touching on the toxic elements of social networks, popular trends, and the PC culture, Micc is also using his voice to raise awareness about self-love, self-acceptance, and confidence.
Micc's Hotskin, Uncomfortable Tutorial, TPTPO, and Adult Toys were introduced on 01.09.2021; about this particular batch, Micc had said:
"No astronauts, no sci-fi locations with sparkles in the distance, no black backgrounds with the accentuated use of gold, no subjects seen and reviewed, no mystical scenarios placed there because they are cool, no abuse of neon, no scenarios composed of cryptocurrencies with the sole purpose of pleasing everyone, no memes, no templates, nothing that is not close with the creativity and effort that is in composing something unique and with a justified meaning behind it. It is not wrong to use all these things, but art is as varied as personalities.
More information about Micc and his art can be found on his official Instagram profile.
Contact Info:
Name: Micc
Email: Send Email
Organization: Micc
Address: Italy
Website: https://www.instagram.com/micc/
Release ID: 89045554