Avery Palmer is a surrealist figurative painter who will be having an exhibition of his latest paintings from September 1st through October 3rd at the John Natsoulas Gallery in Davis, CA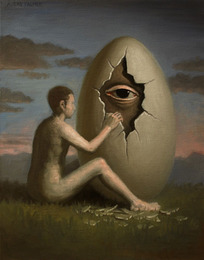 Davis, United States - August 21, 2021 /PressCable/ —
The Avery Palmer Exhibition will be held September 1st through October 3rd, 2021 at the John Natsoulas Gallery in Davis, CA. Come by to enjoy the strange and whimsical works of the surrealist oil painter, Avery Palmer. Each of Palmer's detailed, meticulous paintings offer a window into his complicated vision of an occult world. His painted works are an arcane catalog of stairways, hallways, towers, and moats. Trees hatch out of eggs; butterflies emerge from heads, and. His painting are indeed figurative, though the figures themselves are anomalies. His advocacy of the figure—in all its visceral potential—is distinctive. From his earliest work Palmer has manipulated the human form with both skill and metaphoric stylization; half-animal hybrids, nudity, and objectification have featured regularly in his sculptures and paintings. Always unusual and sometimes shocking, Palmer's use of the body is nothing if not eye-catching.
Palmer's long fascination with Surrealist art—especially with the work of Salvador Dali—also became an important factor in his painting. "I think I have always had an active imagination," Palmer explains, "and that's why I was drawn to Surrealist art. I'm fascinated by how a Dali painting can be like a window into a totally other world where the imagination can play." Other notable early Surrealists, including Max Ernst, Rene Magritte and Remedios Varo, have influenced Palmer's work, as have Pop Surrealists such as Mark Ryden, Laurie Lipton and Heather Nevay. Interestingly, Dr. Seuss is another source of inspiration, as are Rembrandt and Odd Nerdrum.
Palmer enjoys putting his characters into circus-like costumes, noting that it "helps to get across the idea there is an interesting discrepancy between people's outer facades, how they present themselves to others and their inner thoughts, feelings and desires." The artist's awareness of human disconnects is central to his work: he pinpoints and exaggerates quirks and flaws in an effort to highlight the qualities that make a character truly "human." For an artist whose work has its roots in Surrealism, Palmer has a notable interest in social situations. Avery Palmer's paintings are full of observations about the human situation, but they never preach. Because of their roots in dreams and intuitions, and because of their innate sense of humor, Palmer's works stop short of moralizing. Entertaining, mesmerizing, and just weird enough to be memorable, the paintings of Avery Palmer present a circus of the imagination: a stream of fascinating acts that continues to roll right out of the artist's Mind.
For more information on this exhibition, check out https://www.natsoulas.com/event/avery-palmer-exhibition/
To order a copy of the Avery Palmer book visit https://www.amazon.com/Avery-Palmer-Tahlia-Aghily/dp/1647862779
Contact Info:
Name: John Natsoulas
Email: Send Email
Organization: John Natsoulas Gallery
Address: 521 1st St, Davis, California 95616, United States
Phone: +1-530-756-3938
Website: https://www.natsoulas.com
Source: PressCable
Release ID: 89042650